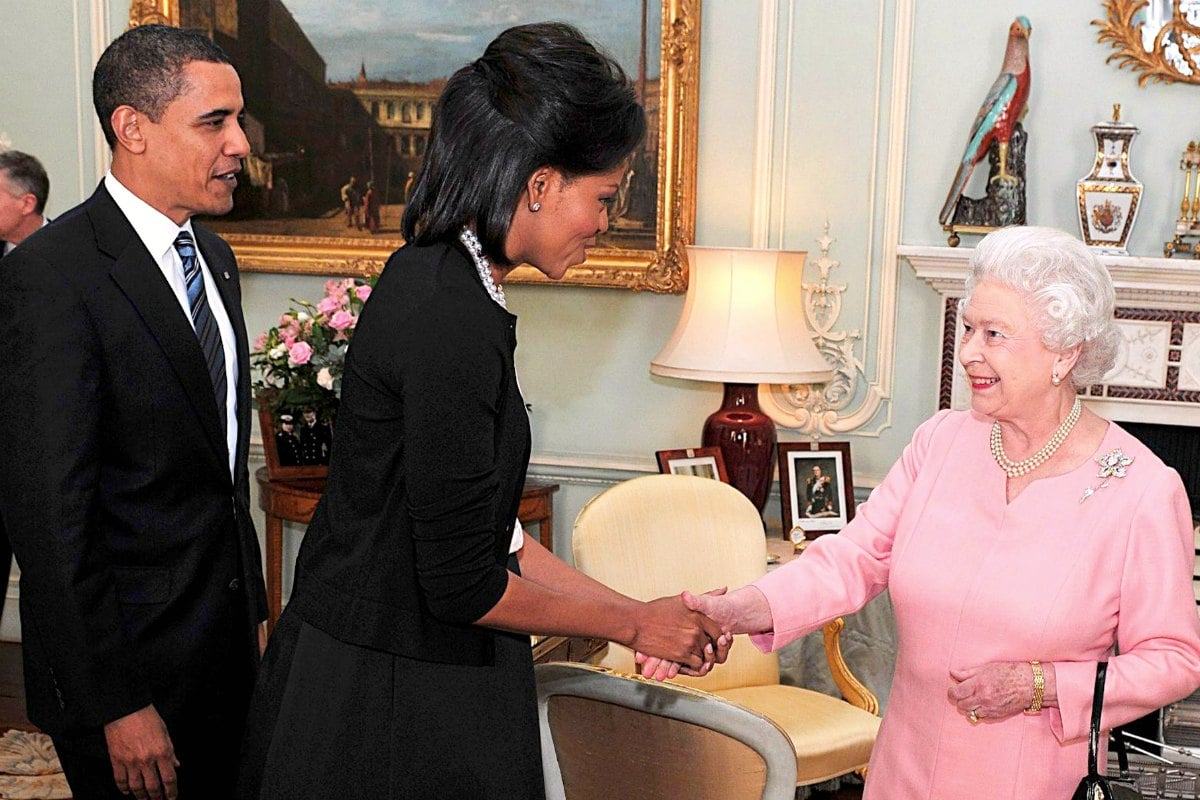 To catch up on all things royal family, make sure you check out our Royal Hub. We've got you completely covered.
When it comes to the royal family, there's a lot of talk about royal protocol, and you'd have to excuse us from thinking that it all comes from Queen Liz.
After all, as the matriarch of the British royal family, you'd think she'd be the one ensuring everyone's elbows were tucked in to the correct degree, and triple checking people's bowing and curtsying technique.
However according to former First Lady of the United States, Michelle Obama, we've been wrong about her this entire time, and she would know: she's hugged the Queen.
A love story for the ages… we love how much the Queen loves her corgis.
Currently doing press for her new memoir Becoming, Michelle shared the time the Queen casually picked her up on a visit to Windsor Castle in 2009 while her and Barack Obama were attending the G20 summit.
"So I had all this protocol buzzing in my head, and I was like 'don't trip down the stairs and don't touch anybody, whatever you do," she said at an event at London's Royal Festival Hall.
"And so the queen says, 'Just get in, sit wherever' and she's telling you one thing and you're remembering protocol and she says, 'Oh it's all rubbish, just get in.'"
According to the Evening Standard, Michelle followed her sell-out talk with a "power meeting" with the new Duchess of Sussex, where they spoke about women's empowerment, female education and motherhood.
It's understood this was the first time Meghan and Michelle have met, and according to the source, they "formed a strong bond and were expected to stay in close contact."
Most recently the 54-year-old was also asked by Good Housekeeping to offer the new Duchess some advice, and she responded with these wise words.
"Like me, Meghan probably never dreamed that she'd have a life like this, and the pressure — from yourself and from others — can sometimes feel like a lot," she said.
"My biggest advice would be to take some time and don't be in a hurry to do anything."
And while we don't want to jump to conclusions – said as we're very much so, jumping to conclusions – we think this could be a definite power couple in the making.
What do you think about the revelation that the Queen doesn't actually care about royal protocol? Tell us in a comment below.