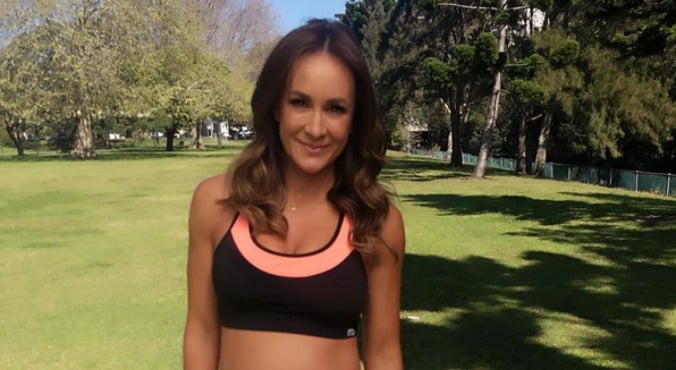 Image: Instagram.
There's no denying Michelle Bridges loves exercise. In fact, her whole life and career is based around it. Now? She's taking her love of fitness to the next level – "sleep exercise".
Oh, you don't exercise in your sleep? You lazy bugger, you.
Jokes aside, the 45 year old posted a picture on Instagram of her doing a plank in bed complete with sleeping mask. And a baby bump.
"Good night everyone. Off to get my power sleep #sleepercise," she wrote.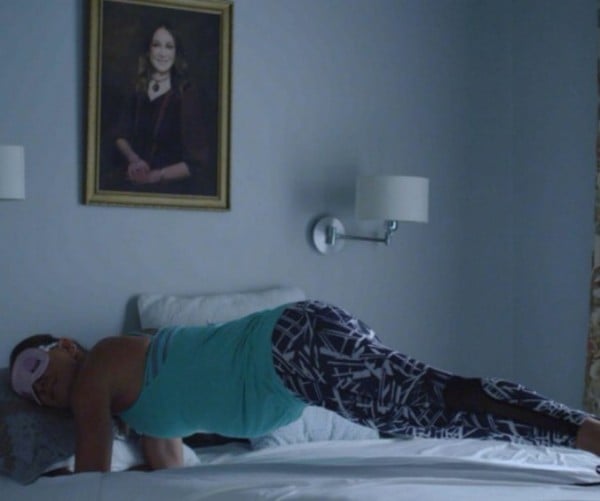 With the creation of sleepercise, Bridges has single-handedly solved the old age dilemma - do I snooze a little longer or get up and do exercise?
The image is taken from her new campaign with Woolworths to promote her range of healthy frozen meals, and the rest of the advert is equally as hilarious, showing Bridges living the "perfect life" showering in diamonds, dining on kale on a silver platter and exercising using two poodles as weights.
But while the intent of this particular shot may have been to poke fun at her "perfect" exercise obsession, not everyone got the joke.
"I thought you're not meant to do many of the normal ab exercises during pregnancy because it can make your muscles separate even more?" wrote Pipwat86, while another commenter joked, "Your bub is going to come out doing sit ups."
While some were fixated on her "risky" exercises, others were distracted by something else in the photo - the self portrait of Bridges hanging above the bed.
"Is that a picture of yourself hanging above the bed??" commented addfitness_and food, while Jane_the_dane was equally unimpressed, "Trainer not decorator.#framedselfiehastogo."
But the winning comment has to go to commenter wholefoodandfitness who dubbed the photo "Mona Michelle". Brilliant. Whether Bridges loved the prop enough to take it home and hang it above her real bed - who knows, but we secretly hope so!
It's not the first time Bridges has drawn commentary for her exercise regimen while pregnant. Earlier in her pregnancy, the personal trainer was criticised by her followers for jumping in to a pool and deleted a picture of her weightlifting after an onslaught of negative comments and "warnings" about her health.
Just days ago, Women in Focus Physiotherapist Lyz Evans shared a Facebook post warning clients not to follow Bridges' lead in doing crunches as she is pictured doing in the latest issue of New Idea magazine, because it sends the "wrong idea" to fellow pregnant mums.
"Sadly, doing this in pregnancy puts undue stress on the linea alba which is the connective tissue between the two sides of the abdominal wall. Overloading the linea alba in pregnancy can result in ' Rectus Abdominus Diastasis' - a condition affecting 66% of women in their third trimester... Not only can this lead to low back pain due to a lack of abdominal support, but there is undoubtedly a strong link with urinary dysfunction," she wrote. (Post continues after gallery.)
Michelle Bridges on Instagram
I think we can be rest assured that Bridges has consulted health and fitness experts (rather than those commenting on her instagram) about exercising while pregnant and would never do anything to put her baby at risk.
Do you think people are too quick to criticise Michelle Bridges?