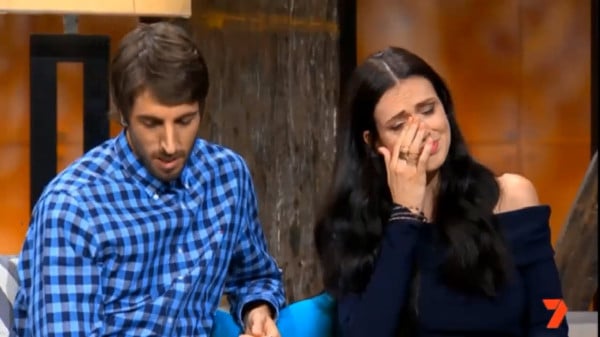 We tuned into an epic reunion show of Seven Year Switch last night.
Three patched-up couples beamed at the cameras, reinvigorated with love and passion and fight, each celebrating their own milestones. Weddings! Baby bellies! Strange beachside proposals with tattoo vouchers!
It was all going on.
But while the celebrations of teeny tiny arrivals gained the attention of many, there was a group of viewers who felt a twang of pride for an unlikely pair – the only pair to go their separate ways – Michelle and Jason.
Watch a snippet of the reunion episode below (post continues after video).
That proud group is made up of kids who are products of broken marriages. A group who knows what it's like to witness a messy separation, to be part of a divided family and to love two bleeding, shattered parents irrevocably. A group of which I am a member.
It might sound crazy, but I see Michelle and Jason as the success story of Seven Year Switch. 
Sure, it wasn't a Disneyesque ending. There were no miracle baby announcements, proclamations of undying love or glittering diamond rings, but there was peace. There was mutual respect. There was a sense of overwhelming relief. And above all, right there on our TV screens was a shining example of what a separated marriage can – and should – look like.