WARNING: This post contains descriptions of domestic violence that may be triggering to some readers.
When Melissa George spoke on Sunday Night about the battle for custody of her two young sons after a domestic violence incident at the hands of her ex-partner, the backlash was instant.
In the emotional interview, in which Melissa spoke of how she "fought for her life" as her then-partner threw her against a door and slammed her head into a wardrobe after a night out, the former Home and Away star begged her home country for help.
Her sons, three-year-old Raphael and one-year-old Solal, aren't allowed to leave France without written permission from her ex and she's fighting for their custody.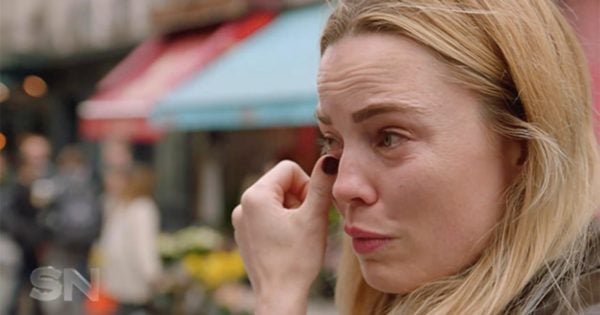 "I just want my country to help me get home and to see this crazy crap we're going through. I need someone to understand what happened," she said.
But many Australians were disturbingly unsympathetic, because George had apparently "turned her back" on Australia in a now infamous 2012 interview with Fairfax.
"I'd rather be having a croissant and a little espresso in Paris or walking my French bulldog in New York City ... I don't need credibility from my country any more, I just need them all to be quiet. If they have nothing intelligent to say, please don't speak to me any more," she had said to journalist Christine Sams.