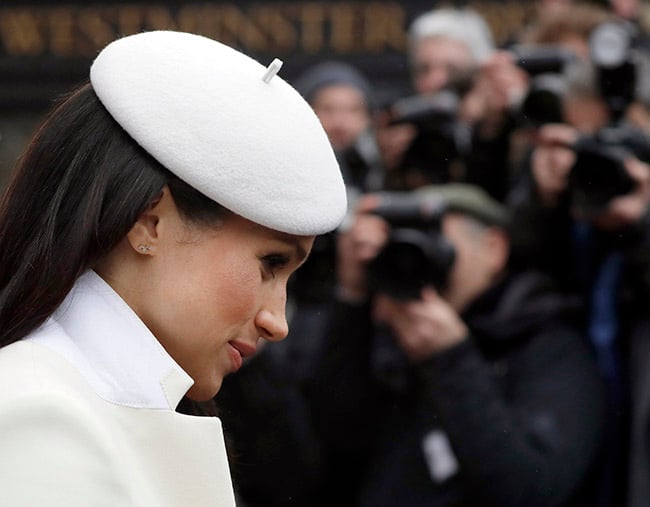 It was Meghan Markle's first official event alongside the Queen of England at today's Commonwealth Day service at Westminster Abbey and her hat unequivocally stole the show.
Yes, Commonwealth Day – an opportunity for the 53 member states to come together – is one the the monarch's most important celebrations. The Queen herself was there, so too was the Prince of Wales, the Duchess of Cornwall, the Duke of York, the Princess Royal and Prime Minister Theresa May.
The royal favourites, Meghan Markle and fiance Prince Harry, Prince Charles and Kate, the Duchess of Cambridge, were all in attendance…
But everyone was distracted, in magnificent fashion, by that hat, which should have received its own invitation and official title as well.
Watch the royal family arrive for Commonwealth Day in the video below.
Some news sites are calling the beret a "nod" to Meghan's feminist beliefs. Others are saying its crisp whiteness is symbolic of the upcoming nuptials.
But perhaps the most touching notion, is that the hat was worn in tribute to the late Diana, Princess of Wales – Harry and William's mother and Meghan's would-be-mother-in-law.
READ MORE: The story behind the 1000-diamond Cartier Halo tiara passed down from Queen Elizabeth to Kate Middleton.
Diana, too, was a fan of leading hats. And this particular beret atop Meghan's head was created by one of Diana's favourite designers, Stephen Jones, Time reports.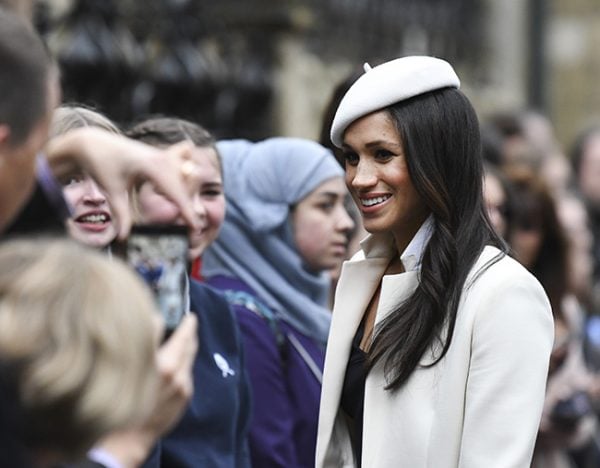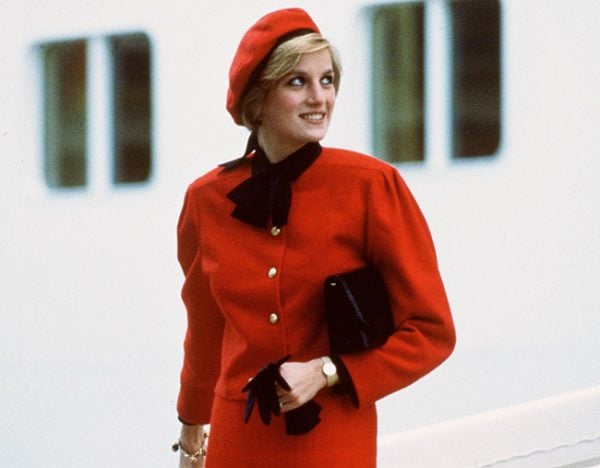 If it wasn't the hat, it was the shoes.
Fans were quick to point out that Meghan and her future-sister-in-law Kate were wearing seemingly identical shoes.
(No doubt women around the world will also be wearing navy suede pumps tomorrow, too).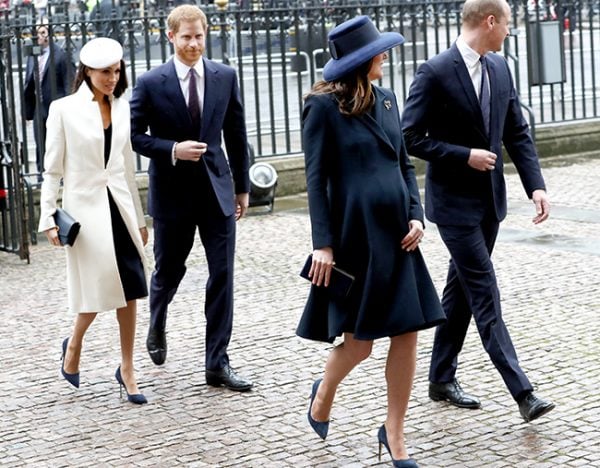 But according to Mirror, the shoes are from different designers.
Meghan's are from Manolo Blahnik and Kate's are Rupert Sanderson Malory. Both cost around AU$800 each and don't these sisters-in-law know, suede ruins very easily?
Meghan Markle and the Duchess of Cambridge wore identical blue suede shoes at the Commonwealth Day service in London today https://t.co/ktJ3BsMk5A pic.twitter.com/xyRLYHSQN2

— Sarah Karmali (@SarahKarmali) March 12, 2018
As well as the hat and the shoes, Meghan and Kate were dressed beautifully.
The former Suits actress was wearing a white coat by Amanda Wakeley, AAP reports, and a Mulberry shoulder bag to match her navy dress.
Kate was wearing a Beulah London coat and dress and, according to Mirror, we last saw her in the same outfit when she was pregnant with Princess Charlotte.
The Duchess, too, was wearing a hat designed by Lock and Co. And, by all accounts, the two hats from the royal sisters got on just fine.
LISTEN: In case you missed it, Meghan Markle has brought slut strands back.
For everything Prince Harry, Meghan Markle and the Royal Wedding, visit our Royal Wedding hub.