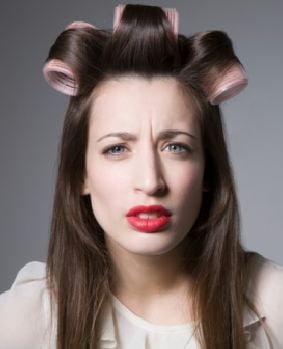 It is just me or does it seem like our beauty routines have become more complicated?
Life is busier than ever but instead of using maybe three products on our faces, it's extended to 20.
And what's in these new so-called 'must-have' products that make them so special anyway? If you've ever turned over a jar, bottle or can and felt like you needed a science degree to work it out then read on for how to decode the symbols on cosmetics.
Cosmetics sold in Australia are regulated by the National Industrial Chemicals Notification and Assessment Scheme (NICNAS), a division of the Department of Health and Ageing. Beauty products must comply with certain legislative requirements, including labelling of ingredients, which is overseen by the Australian Competition & Consumer Commission.

The 12M in a jar.
You know how you've had your mascara for about two years, and your nail polish remover for who knows how long? Well, this symbol is telling you what the product expiry is. So if it has a 12M in a jar, it means that product has a shelf life of 12 months from the date you open it. It's also a good idea to pay attention to the storage instructions – if it says 'store in a cool, dry place' or 'store below 30 degrees' then keep it out of your bathroom where it gets humid and steamy as this will decrease the shelf life.

The flame.
This logo indicates, yep you guessed it, the product is flammable. You'll find this mostly on hair products (hairsprays, dry shampoos) and nail polishes. Unless you want to rock a black singed hair vibe, do not use these products near an open flame or while smoking. Actually, don't smoke ever.
The hand with book.
Remember Inspector Gadget's niece Penny and her computer that was disguised as a book? Using that book Penny could foil the wackiest of M.A.D.'s evil schemes. Um, this has nothing to do with that (but seriously how cool was it?) this symbol is instead telling you to look for a leaflet in the packaging for more information.

The chasing arrows.
I know what you're thinking, Nic, come on, we know this one means recyclable packaging, and look, you're right. I just didn't want to leave it off for fear of not having a complete and thorough list. NEXT!

The lowercase e.
This rather fancypants symbol is not nearly as exciting as it looks, the 'e' or estimated sign simply means that the amount specified on the packaging is as accurate as possible. So if the bottle says 125ml, within these three margins for error, the manufacturer certifies that there is 125ml in the bottle. Yeah, told you it was boring.

Eco Cert.
Ecocert was the first organisation to create a standard for "natural and organic cosmetics" in 2003. The independent company set up strict requirements that meet consumer expectations, and encourage economic stakeholders to adopt responsible practices. In order for manufacturers outside of EU to get certification, their product is subject to supervision by one of the Ecocert's subsidiaries or it must meet national regulations.
The yin yang arrows. 

The Green Dot is the license symbol of a European network of industry-funded systems for recycling the packaging materials of consumer goods. When you see a Green Dot (manufacturers mostly use a black and white version) you'll know that the manufacturer of the product contributes to the cost of recovery and recycling of the packaging.

Not tested on animals.
This bunny is the symbol of independent Australian organisation Choose Cruelty Free (CCF). For brands to use this symbol they must go through an accreditation process and enter into a legally binding contract. NB: If you see the words "No animal testing" without a logo or a different bunny, it's best to do your research on the company's policy on animal testing. You can see CCF's full list of cruelty free and vegan brands here.

The cruelty free rabbit.
This super cute bunny is PETA's (The People for the Ethical Treatment of Animals) symbol for shoppers to spot cruelty-free products. You'll spot this more if you buy international or American beauty products over Aussie brands (who use CCF's symbol). PETA have a searchable database of over 1,300 cruelty-free companies, you can see that here.
Follow Mamamia Style on Facebook

Mamamia Style brings you the best fashion and beauty news from around the world. We run giveaways, cover trends and