As we learned on Tuesday night, love for Married at First Sight couple Craig and Andy – or Crandy  as we've come to know them – is officially dead. And now that the cat is out of the bag, guests from their wedding are shedding some light on what really goes on at a reality television wedding (that is not actually a wedding.)
Speaking to Pedestrian.tv on Wednesday, two unnamed guests from the couple's New Zealand nuptials confessed that what viewers saw on TV was a far cry from the reality of the day.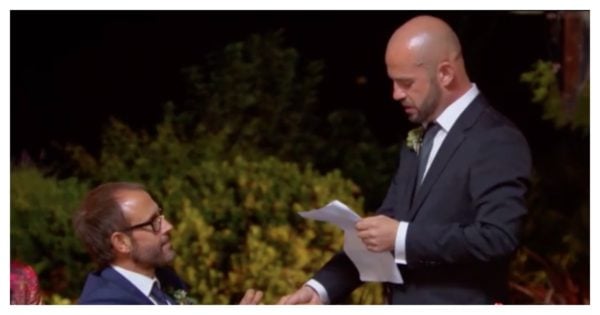 The Married at Fist Sight wedding of Craig and Andy. Source: Married at First Sight.
Starting out like a dream, guests were flown to New Zealand for two days, with all airfares and expenses paid for. Except due to the channel's desire for the couple reveal to be a true surprise, everyone was under strict instructions to remain locked in their hotel rooms until moments before the walk down the aisle.
Of the ceremony itself, the guests said that filming went for several hours, with the five-minute-long ceremony being filmed four times so that the camera crew could get all the appropriate angles.
One of the guests also admitted that it was the first wedding they'd "never been to a wedding before where the [couple] say 'Hi, nice to meet you'".