The first time I cried in front of Mia Freedman was probably the second time I met her.
We were getting to know each other when I did that thing where I blurted out half my past in a minute because she had that effect on me, she listened with heart and compassion and she made me feel like my words mattered.
That warmth and tenderness, that ability to listen without judgement lead to me cry in front of her again, probably for the 78th time, when we read Marian Keyes' "announcement" back in 2010 that she was suffering from crippling depression.
Mia knew how much that post meant to me. She knew, not just how much I loved Marian, but she knew about my own struggles with the darkness.
Like most women in the developed world I was in love with Marian. Not in a flippant "oh my god she's so funny" way, but with a depth and intensity that transcended the normal crush. I knew Marian, I'd read all her books, googled her every column, subscribed to her newsletter. It's a good thing (for her) I don't live in Ireland because I would have sat outside her house and read her mail.  
Listen: Mia Freedman interviews Marian Keyes on No Filter. 
I was with Mia again two years later when Marian returned from her abyss and described the crippling depression she had endured.
"Wave after wave of black agony has been rolling up from my gut and bursting in my head and I've been powerless to stop it. I've heard people describe depression as feeling like they're living behind glass, of being numb and unable to experience anything, but for me, it has been totally different. It has been like being poisoned, it's felt like my brain is squirting out terrible, black, toxic chemicals that poison any good thoughts.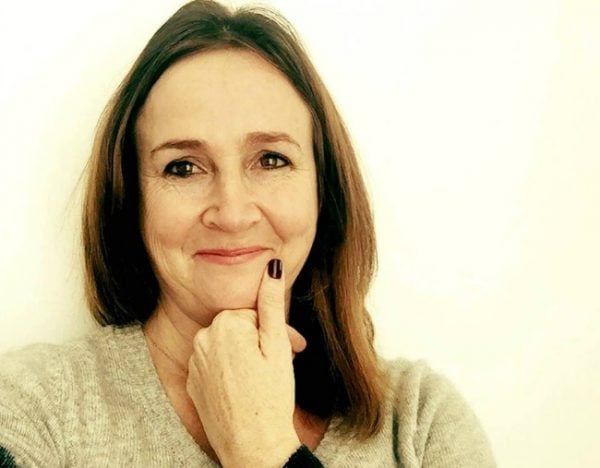 Lana: Even without knowing Marian Keys, I felt like I knew her. 
Marian got me, reading this was like allowing my own brain to speak, albeit with a far better sense of prose and form. Her account of her mental illness was the closest description of the fear and isolation I had felt in my bleakest period.
Marian understood me and I got her. In part that's where her genius lies, every woman who reads her books feels like she knows her, she is infinitely relatable and exceptionally natural, she just is. She writes like she's speaking to me, and I know everyone else who reads her work feels the same way. She is writing for them.
So when Mia texted and told me she was going to interview Marian Keyes, I almost flung myself through my phone. I wanted to crash the Mamamia office just to breathe the same air as Marian Keyes had exhaled.