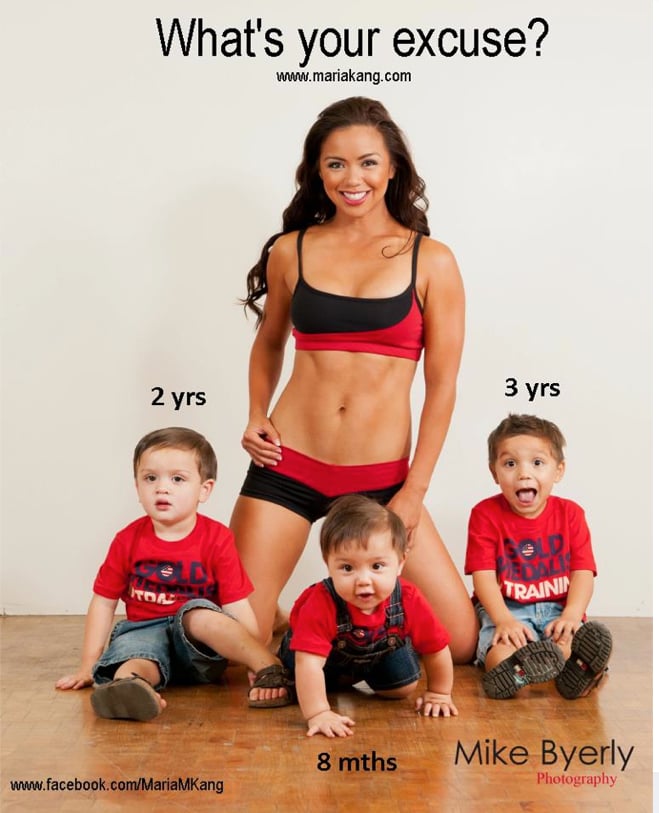 Remember Maria Kang?
She's the mum-of-three you can see in that picture on the left, which went viral on the internet after she uploaded it to her Facebook page, resulting in it being viewed over 16 million times.
Well, she's not quite finished. Kang has capitalised on the attention brought by that Facebook post (she has appeared on CNN, as well as done a stack of appearances and interviews since the photo's release) and decided to start her own movement.
The 'No Excuse Moms Movement'.
The movement involves more than 700 local groups of mums across the US, encouraging them to get together for free, regular workouts in public spaces.
Speaking about how her controversial photo allowed her to get the movement started, Kang told Yahoo! Shine:
I feel like all the backlash was worth it.

I feel like my original image and message sparked an international dialogue that woke people up and made them question their excuses.
The announcement of Kang's new campaign on Facebook was accompanied by this – familiar looking? – photo: