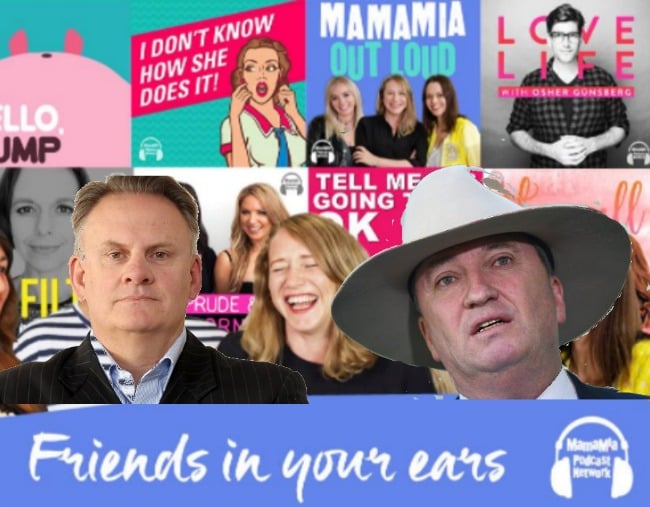 Mamamia Podcast Network, the world's largest women's podcast network, has today launched its 22nd show  – one that we expect will resonate with our exceptionally engaged audience.
The idea came about mid-morning, in early March 2018, when one woman had a rather profound realisation.
"You never truly understand something," she said in a meeting of 20 female colleagues, "until a man has explained it to you. Slowly."
The room nodded in violent agreement, admitting they've never fully understood news, politics, sport, entertainment, business or finance in the 10 years Mamamia has been running.
"There's definitely a gap in the market," the Director of Podcasts said. "And that gap is white men telling us what to think about things.
"That's where our brand new podcast, 'Mansplain To Me', comes in."
Listen to the latest episode of Mamamia Out Loud. Post continues below. 
The Head of Podcasts Australia agrees.
"Some of the most productive conversations I've personally had in my life, are the ones where I'm in a pub, and meet a guy who offers to explain Australian politics to me.
"Sure, I've studied politics, and written about it for two decades. But I find the way men condense really complex subjects into bite sized, cute pieces for women like me, to be incredibly helpful."
Imagine those enlightening conversations, but in podcast form.
A primary criticism of the network that has accrued over 42 million downloads since it began, is the significant lack of white male voices.
The (almost) exclusively female hosts have struggled to get their head around current affairs without an authoritative male voice to helpfully explain them.
After much deliberation, the Mamamia Podcast Network settled on two hosts with outstanding credentials: Mark Latham and Barnaby Joyce.
The first episode will drop on the first of never because this is an April Fools joke.
You can listen to our brilliant podcasts on the Mamamia Podcast Network – 100 per cent mansplaining free.