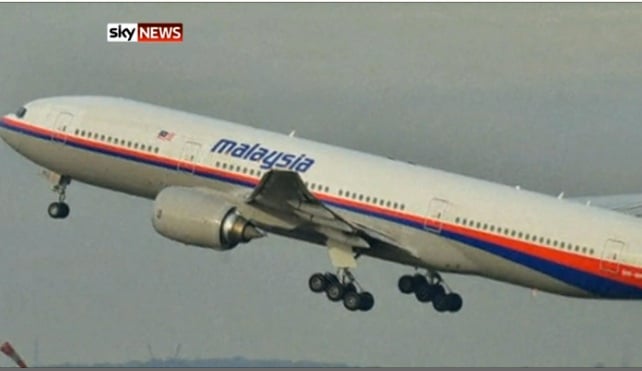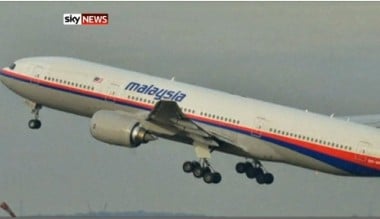 The search for the missing Malaysia Airlines airliner is now a huge multi-national effort, with the disappearance of flight MH370 having been described by Malaysian officials as an "unprecedented aviation mystery".
In a circumstance where there is far more that we don't know than we do, here are 9 facts you absolutely need to know about the tragic disappearance of MH370.
1. A plane has disappeared into thin air.
The airliner, which was headed from Kuala Lumpur to Beijing, lost contact with ground controllers less than an hour into its journey, somewhere between Malaysia and Vietnam- and the last words from the flight were "All right, good night," it was revealed by Kuala Lumpur's ambassador to Beijing during a meeting with Chinese relatives of passengers on Wednesday.
No distress signals were received from the Boeing 777-200 ER prior to its disappearance, and reports emerged on Tuesday that the jet was hundreds of kilometres off course and travelling in the opposite direction to its original destination prior to its disappearance.
CNN reports that the information, based on military radar evidence, came from a senior Malaysian Air Force official who declined to be named because he is not authorised to speak to the media. According to CNN:
The Malaysian Air Force lost track of the plane over Pulau Perak (the westernmost part of Malaysia's territory), a tiny island in the Strait of Malacca- many hundreds of miles from the usual flight path for aircraft traveling between Kuala Lumpur and Beijing, the official said.

If the data cited by the source is correct, the aircraft was flying away from Beijing and on the opposite side of the Malay Peninsula from its scheduled route.
CNN reports that the plane's transponder, which continuously transmits flight information, stopped working near the southern tip of Vietnam, around the time that flight controllers lost contact with it. From there, according to News.com, it began travelling in completely the opposite direction.
On Thursday morning, a Chinese satellite looking for Malaysia Airlines flight MH370 has found what is suspected to be a possible crash site. As Mamamia wrote this morning:
The images have been posted by China's State Administration for Science, Technology and Industry. They were taken Sunday – the day after Flight MH370 went missing – and they appear to show pieces of wreckage in the water. The sattelite spotted three items in the sea, the largest of which was 24m by 22m in size.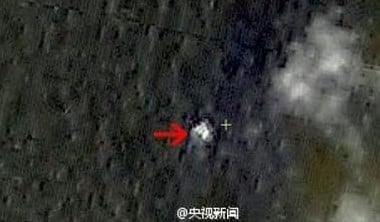 China provided no explanation as to why these images weren't released until Wednesday, News.com reports.
2. Six Australians are among the 239 missing and feared dead
The airline has said in a statement on its website that the flight was carrying 239 people, including two infants and 12 crew members. The passenger list includes two couples from Queensland, Rodney and Mary Burrows and Catherine and Robert Lawton, and one couple from New South Wales, Li Yuan and Gu Naijun. Perth-based Paul Weeks, a father of two, originally from New Zealand, was also aboard the flight.
3. The flight's co-pilot was a "playboy" who previously smoked and taken selfies in the cockpit.
It was reported on Wednesday that a co-pilot at the controls of the missing flight had previously invited a Melbourne tourist and her friend into the cockpit on flights, calling into question his safety record.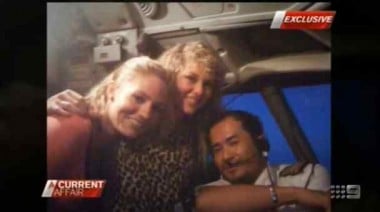 According to News.com, pilot Fariq Abdul Hamid and a colleague broke airlines rules in December 2011 by inviting passengers Jonti Roos and Jaan Maree to join them in the cabin for the one-hour flight from Phuket to Kuala Lumpur. Ms Roos told A Current Affair last night that she and her Ms Maree posed for picture with the pilots, who smoked cigarettes in the cockpit. According to News.com:
"Throughout the entire flight they were talking to us and they were actually smoking throughout the flight which I don't think they're allowed to do," Ms Roos said.
4. Two of the passengers boarded the flights using stolen passports, and they've now been identified as Iranian economic migrants.
Two of the passengers used stolen passports to board the flight; one belonged to Austrian Christian Kozel and the other to Luigi Maraldi of Italy. Both passports had been reported stolen in Thailand in the past two years. One of the passengers who boarded with a stolen passport was today identified by Malaysian police as Pouria Nour Mohammad Mehrdad, according to News.com. The 19-year-old Iranian economic migrant, who boarded the plane on the Austrian passport, is reportedly pictured in this tweet by  Channel NewsAsia: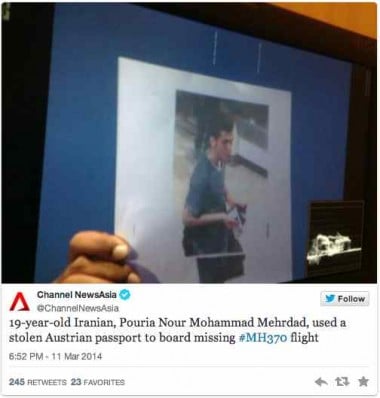 According to News.com:
Police chief Tan Sri Khalid Tan Sri said tonight that the man was not believed to be a member of a terrorist group. He says the man was a 19-year-old who was believed to be planning to reach Germany… Asked why police believed the man was seeking to emigrate to Germany, Khalid said authorities had been in contact with his mother, who was waiting for him to reach Frankfurt, but he gave no further details.
The second man was identified by Interpol on Tuesday as Delavar Seyed Mohammadreza, a 29-year-old Iranian national. According to NBC News, authorities are increasingly expressing doubt that there's a link between terrorist groups and the men who boarded MH37 with stolen passports. NBS News reports:
The Iranian pair who boarded the missing Malaysia Airlines jet using stolen passports "might just be people that are being smuggled or trafficked," according to the head of Interpol.

The global police agency's Secretary General Ronald Noble told a news conference that "the more information we get, we're inclined to conclude it was not a terrorist incident."
The airline said in a statement on its website that it could not comment, for security reasons, on how the passengers with stolen passports purchased their tickets.
5. Earlier reports that five other passengers checked in but never boarded the flight have now reportedly been discredited.
It was reported at the weekend that five other people had checked-in to flight MH370 – but failed to board the flight – and were also being investigated. News.com reported  that these individuals' luggage was removed from the flight when they failed to check in. But according to the Huffington Post, Malaysian officials have now dismissed these earlier reports that five passengers had checked in to flight MH370 over the weekend and not boarded the plane.
6. The plane's disappearance could be linked to terrorism.
Further complicating the investigation, the Malaysian transport minister says the identities of four individuals who boarded the ill-fated flight are also being investigated. Malaysia also says FBI experts are checking photos of those individuals against a terrorism database, according to Sky News. News.com reports that Malaysia's Department of Civil Aviation director Azharuddin Abdul Rahman said authorities were "mystified" after large-scale searches, which now include eight countries and an FBI team sent by the US, were unable to locate the aircraft. Mr Rahman added that they had not ruled out terrorism as a cause of the disappearance. According to News.com:
"We are looking at all angles of what could possibly happen on that flight," Mr Rahman explained when asked if there could have been an explosion on board. "Also there is talk about possible hijack and this is not discounted. We are looking at every angle. We are looking at every aspect of what could have happened."
The Sydney Morning Herald reported on Tuesday that Malaysian authorities now suspect the plane's disappearance was caused by a catastrophic mid-air explosion caused by either a bomb in the cargo hold or an unusual technical fault.
7. There are several other (non-terrorism) theories about what happened.
The hijacking of the plane or use of a terrorist bomb are merely unconfirmed theories, though. Several other theories that have emerged to explain the airliner's disappearance include: the disintegration of the plane mid-air due to a catastrophic structural failure of the airframe or bad weather; pilot disorientation, engine failure; pilot suicide; and accidental shoot-down by a country's military.
8. The mysterious floating debris, the oil slicks spotted at the weekend, and reports of passengers' phones still ringing were all red herrings.
Hopes for a breakthrough in the search were raised briefly on Monday, when Vietnam sent helicopters to investigate a floating object- thought to possibly be a plane door- about 140km southwest of Tho Chu island. Vu Trong Khanh of The Wall Street Journal in Hanoi tweeted this image early Monday morning:
But following further examination by Vietnamese authorities, the suspicious object turned out to be a "moss-covered cap of a cable reel," Malaysia's Civil Aviation Authority said on its website. Two oil slicks spotted off the southern tip of Vietnam were also, at first, thought to have provided a much-needed clue. Originally, a government statement said that the slicks were consistent with the kind that would be left by fuel from an airliner crashing into the ocean. CNN tweeted the following eerie picture of the apparent oil slicks on Sunday morning: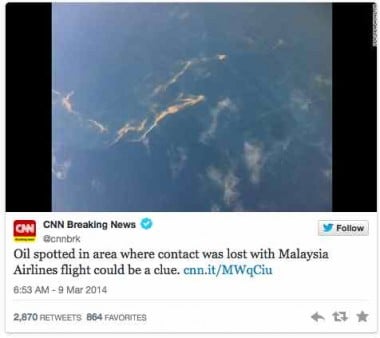 However, chemistry lab analysis has revealed that the oil slick off Vietnam is not from the missing jet. Maritime Enforcement Agency spokeswoman Faridah Shuib said, "the oil is not used for aircraft." Further raising hopes- apparently falsely- family members of passengers have reported that passengers' phones are still ringing when dialled rather than being diverted to voicemail, and a Chinese instant messenger service called QQ has reportedly also indicated that some of the passengers' phones remain online. While these reports seem eerie- appearing to suggest the plane may remain intact or on land- it seems that the phantom dialling tones may not hint at a deeper mystery after all. According to NBC News:
When you hit the call button on some phones, a ringing tone begins immediately.

"However, that does not mean the phone you are calling is ringing yet," wrote wireless analyst Jeff Kagan in an email to NBC News. "The network is searching for the phone. First based on where it last was, then it expands. Then if the network can't find the phone, the call terminates."

The search for the party on the receiving end may be nearly instantaneous, or take a few seconds — during which time the phone (depending on model, network and other variables) may or may not make a ringing noise to indicate to the caller that it is attempting to make the cell connection. So while it may ring four times for you, the person you're calling may only hear it ring once — or not at all.
9. Family and friends are still gathered at a Malaysian Airport awaiting news.
After being unable to locate the plane for more than 24 hours, Malaysia Airlines released a statement on its website saying:
Immediate families of passengers are advised to gather at Kuala Lumpur International Airport. Travel arrangements and expenses will be borne by Malaysia Airlines. Once the whereabouts of the aircraft is determined, Malaysia Airlines will fly members of the family to the location… Our sole priority now is to provide all assistance to the families of the passengers and our staff.
With the fate of MH370 remaining unclear, devastated family and friends of the missing passengers are maintaining a vigil at Kuala Lumpur International airport.