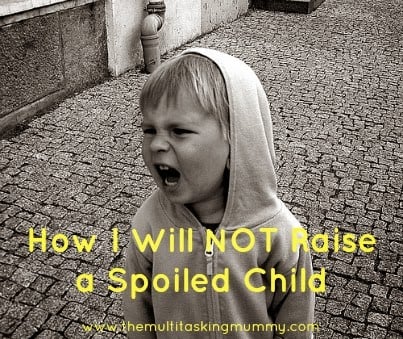 Eva Lewis of The Multitasking Mum is this week's winner of iBlog Friday with her post How I will not raise a spoiled child. Congratulations Eva! Your Tina Arena pack is in the mail.
It happens a lot,  children get spoiled and by grandparents especially, they are the big culprits. I am personally not a fan of spoiling. Apart from the odd matchbox car I put in the trolley during the occasional grocery shop, gifts are given on special occasions.I was prompted to write this post after having a conversation with someone who felt that 'spoiling' was OK and that she did it with her kids and they turned out fine. Perhaps she was lucky?
To me, spoiling children is not only showering them with gifts, especially when they haven't asked for it, but it's also letting them 'get away with murder' so to speak. I'm sure we are all guilty of simply not having the energy and give in to a tantrum throwing child every now and then, but letting children make the rules and letting them get what they want is also a form of spoiling.
You Don't Always Get What You Want
The problem with spoiling children from my point of view is that it really doesn't set them up for the real world, you don't always get what you want in the real world unless you work hard for it and have patience. Children must understand that inputs determine outcomes. I don't want to raise a child who expects to be given everything by his parents when he is an adult and can work for it himself.  I'm not saying I won't help out when he needs it, but there's a difference.
Spoil Intrinsically not Extrinsically
By all means, spoil your children with encouraging words and love, intrinsic things that instill values, a sense of achievement and pride, but limit extrinsically motivated behaviour by giving toys, rewarding with money and so on.
Set Goals
 
I recall having a discussion with a friend of mine whose son is in primary school and who is going through the stage of coming home requesting particular gadgets because 'the boy at schools parents bought him one'. Unfortunately these days this seems to be happening too often with new technologies about, it's all want, want, want. I think it's really important to teach children that you don't just get these things. Firstly, they cost money and secondly, to get something as valuable as this, you must work for it. It's about teaching kids that if they want nice things, they must set goals in order to get them. Parents should also be responsible for helping set the goals too and start small, take baby steps. But remember, they should be the child's goals and not the parents goals.
Don't Satisfy their List
My young nephews, bless them, wrote out their lists to Santa this year which many children do, it was so sweet to read through them. As their Aunty, I've selected a couple of items from the list as I'd much prefer to buy them something they'd like as opposed to something that will end up in the back of the cupboard. But this made me think, when Elliott comes to the age when he writes present requests to Santa, I think it will be best not to buy him everything on his list because if I do, it will be spoiling. Elliott must realise that when it comes to the real world, he will not get everything he asks for without hard work and perseverance. I'm still working on the grandparents, but I know that grandparents will spoil and it's my responsibility as Elliotts parent to set the limits. This year, I've specifically requested 'no toys' and 'educational items' only.
Say No and Set Limits
 
And finally, the thing I find hardest, is saying no. Elliott wont like it and will throw a tantrum, but he'll get over it eventually, it will all be forgotten.
All of these steps are quite easy really if I stick to them, I want to make sure I play my part in helping Elliott develop into a well-rounded adult who understands that life is about setting goals and working hard to get what he wants. He may not realise it when his young, but it will make a world of difference when he's older.
How are you making sure you're not raising a spoiled child?

Are you are mummy blogger? We want to meet you. Send us your favourite post each week by midday on Thursday at [email protected] We'll showcase your work and you could even win publication and a fab prize. This week you'll win our fabulous Tina Arena pack which includes her latest album Reset and her new book Now I Can Dance.
Our next iBlog Friday post will be published on Friday 10 January with submissions due by midday on Thursday 9 January.
Honest and intimate, funny and frank, Now I Can Dance is the long-awaited memoir from the very special, much-loved singer, songwriter and pop diva, Tina Arena. Now I Can Dance is an uplifting story of love, family, laughter, determination and - of course - song.
Find more details about Australia's favourite female artist at her website.
Watch her latest video clip here.