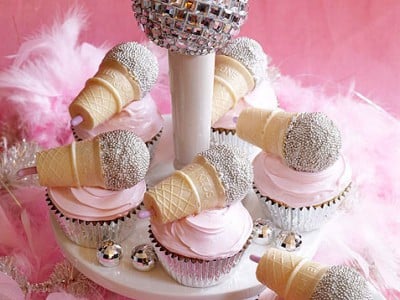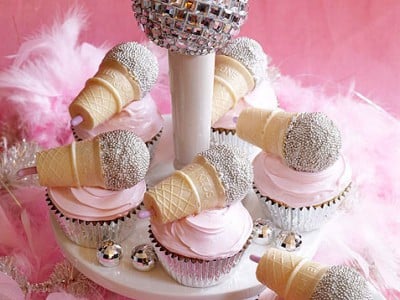 What you'll need:
- Vanilla cake mix
- Cupcake pan
- Foil cupcake wrappers
- Vanilla icing
- Red food colouring
- Mini ice cream cones
- Pink licorice pastels
- Plain doughnut holes
- Edible silver sprinkles
How to make it:
1. Mix a few drops of red food colouring into the vanilla icing to make it light pink.
2. Put ¼ cup of the icing into a sealed zip bag and poke a hole into one of the corners.
3. Poke a hole in the bottom of each mini cone with a toothpick.
4. Squeeze icing from the zip bag and put a bit into each ice cream cone hole. Place each piece of pink licorice into each ice cream cone hole, to look like a cordless microphone antenna - the icing will help it stick into place.
5. Add some more frosting on the inside rim of each cone, then place a doughnut inside.
6. Spread frosting over each doughnut, then dip it into a bowl filled with sprinkles.
7. Bake the cupcakes using the directions on the cake mix box.  Once they've cooled, frost each one with pink icing and place a cone microphone on the top.
Instructions adapted with permission from What's New Cupcake? by Karen Tack and Alan Richardson