If there was ever a time you don't want to upstage your best friend, it's during her wedding.
That's what Karla Barry thought when she realised she had gone into labour just moments before walking down the aisle on her best friend Katie Letton's big day.
But Karla didn't let the impending arrival of her baby disrupt the day: she kept her labour a secret throughout the whole ceremony and photography session.
"I just didn't want to ruin Katie's day, so we didn't tell her," Karla told the West Australian.
Karla's biggest concern was that her waters would break while she was walking down the aisle.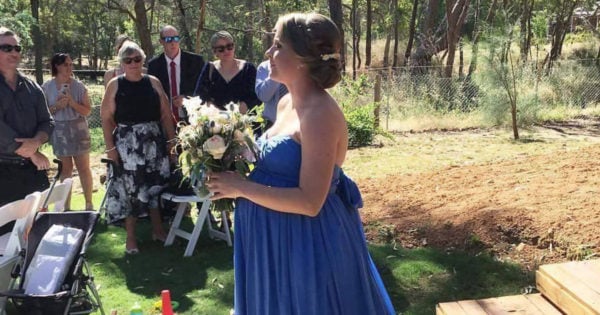 "I was worried about my waters breaking as I walked...I felt a sigh of relief when I got to the end," Karla told Mamamia.
Karla was monitored throughout the day by the bride's mum, who is an experienced midwife.
When her true contractions started just before the speeches, the maid of honour and her fiancé, Adam Hitchcock, left the wedding to head for the hospital.