Lying on my back with my legs in stirrups, I could feel my body starting to shake.
I'd been poked and prodded in places only your gynaecologist is allowed to visit so many times that day, and the spot I stared at on the ceiling was beginning to look like a pear. I focused harder on it to try to distract myself from the discomfort. Pear, pear, pear.
The doctor wheeled over to me on her wheel-y doctor stool and, moving on to the next phase of torture, informed me she was about to to poke my vagina with a Q-tip.
"Do whatever you have to do," I said. She did, gently, and all of a sudden my vagina burst into flames. I mean, not literally, but it might as well've been. The pain shuddered through my body, as if someone were stabbing me with a steel rod.
"WHAT ARE YOU DOING?!" I yelled. Tears had begun to stream down my face. She took her hand away from my vagina and took her gloves off. Then she turned to look at me.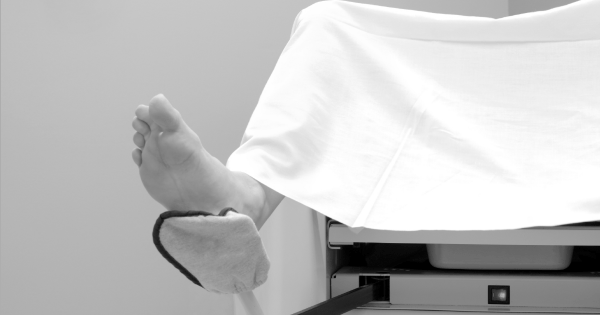 "Well, there's something going on here. It looks like you have some vulvodynia and vaginismus." I blinked.
"Uh, what? What does that mean?"
"You have a condition that causes chronic pain in your vagina. Your vaginal muscles clench up and cause pain. You also have some pelvic floor tension myalgia. Your inner muscles clench up at the slightest touch and cause some pretty extreme pain from the looks of it."
"Wait, what? Why? What did I do?"
"We don't know."
——
Being told that your vagina doesn't work properly is a scary feeling. Part of being a human is that your genitals are supposed to do all of their regular genitalia stuff. But for me, things had always been a little off.
I first discovered my Vagina Problems on my very first visit to the gynocologist at age 13. My mum had brought me for my first ever pelvic exam, as mums tend to do, and assured me that I had nothing to worry about. I sat in the waiting room feeling uncomfortable and a little nervous at the thought of cold metal stirrups, like the ones I'd seen on TV medical shows.