Miley, Miley, Miley. What have you done this time?
The 21-year-old Wrecking Ball singer is a one-woman scandal magnet, we know that already. Every time she forgets pants in public, sticks her tongue out, or grinds up against an innocent dwarf, she gets slammed by the media. But this time she might actually be in real, financially disastrous trouble.
There are reports the pop star is in crisis talks with her management as parents in the US and Canada freak out about lewd acts their underage kids have seen on stage at Miley's concert. Venues and sponsors are apparently spooked by the parental outrage and there's been real talk about cancelling her "Bangerz" tour.
But surely it can't be that bad.
It's not like Miley's grabbing a fan's unwashed g-string and cramming it in her mouth in front of twelve years old fans, AmIRight?
Oh. That's exactly what happened?
Right. Ah. This is awkward.
Ok, with that little anecdote, let's kick off…
Five moments Miley Cyrus went too far (this week)
1. Putting a fan's underwear in her mouth.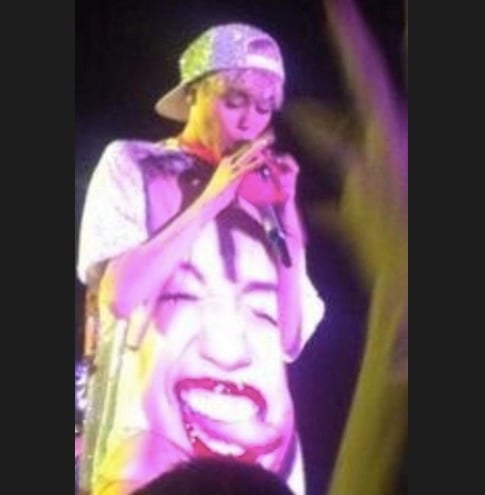 2. Masturbating on a car.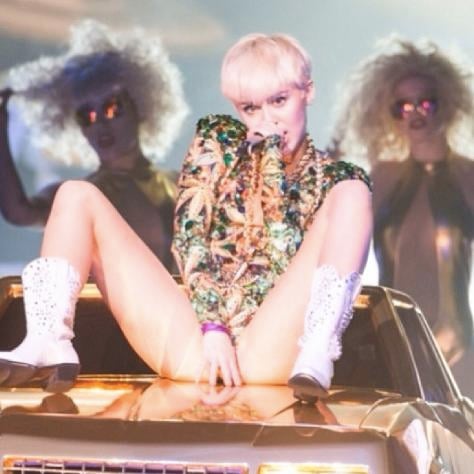 3. Grinding on a dwarf wearing a KKK uniform.
4. Advertising her merchandise with a close-up butt selfie.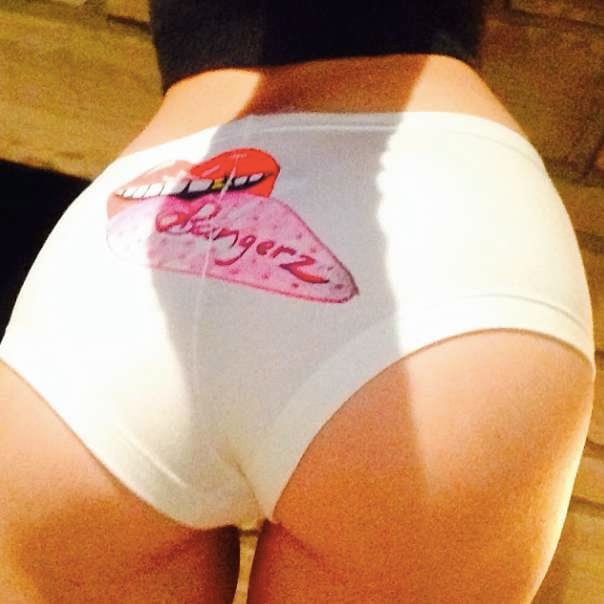 5. Simulating oral sex on a Bill Clinton impersonator.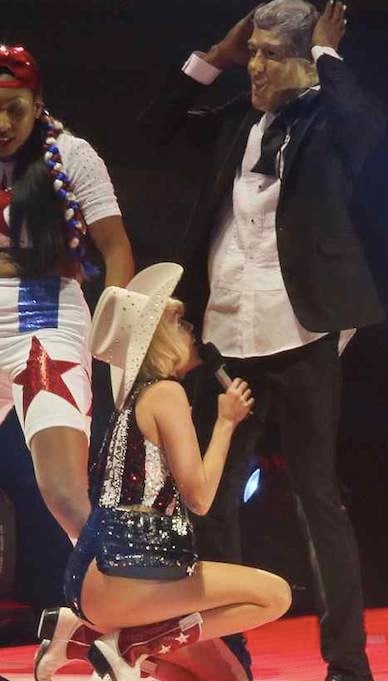 Michelle Rodriguez and Cara Delevigne. Best buddies or hot lovers?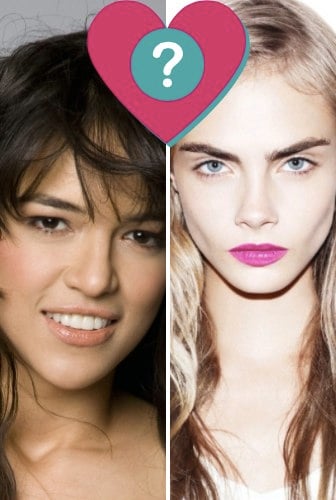 Watching the possible romance unfold between Michelle Rodriguez and Cara Delevigne has been an emotional journey.
When pictures of the pair making out at a basketball game surfaced, we gushed about the sweetness of casual bi-sexual experimentation. But things got serious when we spotted Cara Dand Michelle stumbling drunkenly out of a Prince concert in London holding hands. They were snapped by paparazzi sharing glances, dinner, private jokes and the back seat of a car.
We didn't get our hopes up too much – beautiful rumours like these happen every day – until Michelle Rodriguez "confirmed" that they were dating.
"It's going really well. She's so cool. When we started hanging out I just thought she was awesome, and we have the best time together. She's hard though. You wouldn't want to mess with her in a fight."
In the wake of that statement, every giggle between them looked like real love. Every grainy, intimate photograph was evidence of a sweet, innocent romance between two extremely famous people. It was a rosy time of hope, love, and moderate sexual arousal.
And then today, Michelle Rodriguez took it all back: the glances, the hand-holding, the proclamation of love.
Michelle's people have denied everything, claiming that the statement about Cara was entirely fabricated and the pair are just good friends.
The disappointment is crushing.
Jennifer Lawrence without Photoshop is excruciatingly beautiful.

23-year-old Academy-Award winning actress / our eternal spirit animal Jennifer Lawrence has released a photo with – GASP – no Photoshop. Here she is, without a scrap of retouching. Now, excuse us while we wallpaper our office with this shot.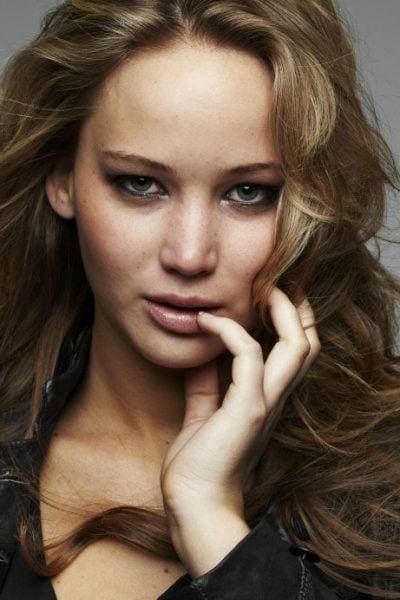 Some of JLaw's finest fashion moments…
And more evidence of why we love the woman…
Lara Bingle in trouble for bikini plagiarism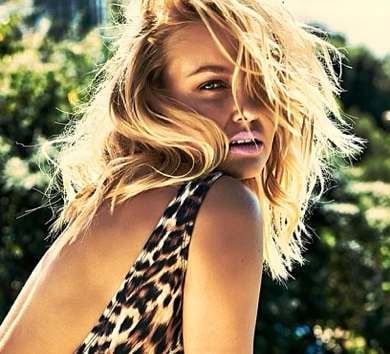 Bikini plagiarism is a thing. Who knew? Not Lara Bingle.
Aussie model/Instagram Queen Ms Bingle has been warned: Your Cotton On bikini designs are unoriginal. Lisa Marie Fernandez is the swimwear designer with her bikini strings in a twist, and she's taking on a number of Aussie swimwear brands including Bingle's. She's also got her eye on Triangl and NPL.
Fernandez was the first person to use neoprene in swimmers, which is that special stretchy fabric scuba gear's made of. She says she was "inspired by the sleek athleticism of scuba gear."
So basically, yeah, Bikini Plagiarism.
This is what she said in a warning to Bingle: "Australia is a wonderful country but since we are all interacting on a global level now. . . and due to Instagram and everything being seen immediately, the rest of our global fashion community will not take Australia seriously if they continue to do this."
Look, we can only assume this high-fashion bikini lady has her bikini strings in a twist because Lara's Cotton On black one-piece costs $30, but hers will set you back a whopping $399. 

Damn that Bingle. Releasing such affordable, classic style swimwear to Australian for swimming in Australia. How very dare she.
Here's the swimsuit we think Fernandez is talking about. And Lara's similar shot. What do you reckon: can anyone own the creative rights to a plain black one-piece?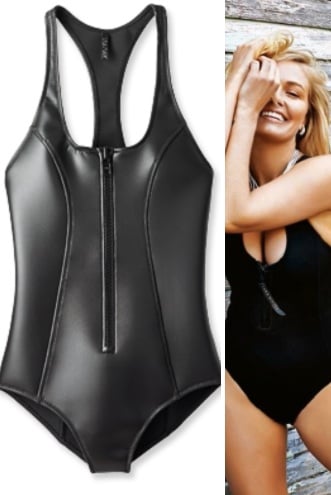 Lisa Marie Fernandez on the left. Bingle on the right.
Watch Kylie Minogue turn an ordinary gym session into a pop concert

You just never know when Kylie Minogue might turn up and serenade you.
The pint-size Aussie singer might be in global demand, but she did find time to terrify/surprise a loyal fan at his London gym. And the footage is incredible.
Adam Milner was just casually working out like any other normal day, when a glitter cannon exploded and Kylie appeared to sing him her new single, Into The Blue.
Turns out all the other gym-goers that day were secret back-up dancers.
It's pretty amazing. Just watch.
Watch the glory, glitter, and total shock unfold frame by frame here.
And a look back at some classic Kylie moments.
Supermodel Jessica Gomes wears a fish carcass as a scarf

Aussie supermodel Jessica Gomes is a modern-day sexy bikini hero.
She was in the middle of helping men's magazine Sports Illustrated celebrate their 50th Photographing Hot Babes anniversary with a stunning shoot when something truly awful happened.
We've pieced together the sequence of horrific events with the photographic evidence available. This appears to be what almost definitely nearly probably possibly maybe happened.
The sun was setting a successful, bosomy bikini shoot…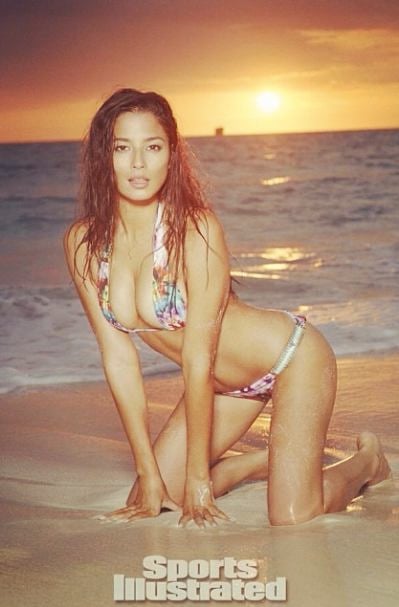 Jessica had spent the day perfecting the art of the casual over-the-shoulder, look-at-my-bottom pose…
When a disturbance in the water nearby caused the crew to panic. A terrifying sea monster was spotted thrashing around in the waves, threatening to attack.
So Jessica, hero of the ocean, slipped into some sexy scuba gear to investigate…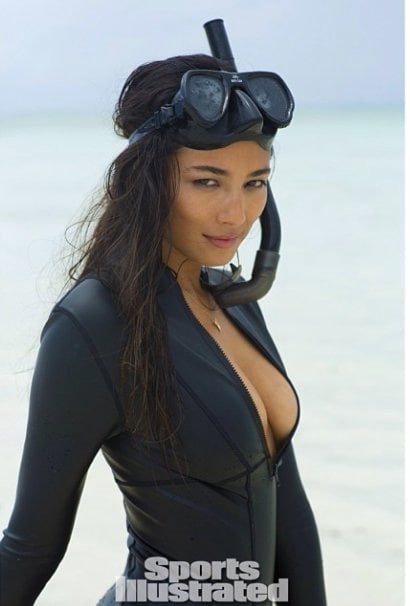 As she jumped into the ocean an 8-foot swordfish reared its ugly head.
In a savage but sexually charged ocean battle, fish and supermodel fought in the waves. It was Model Vs. Wild, and in the process the beast tragically claimed Jessica's clothes. 
Minutes later, the model emerged from the ocean, VICTORIOUS.
She laid the fish carcass around her neck and stared off into the distance, peaceful and triumphant. And most of all, sexy…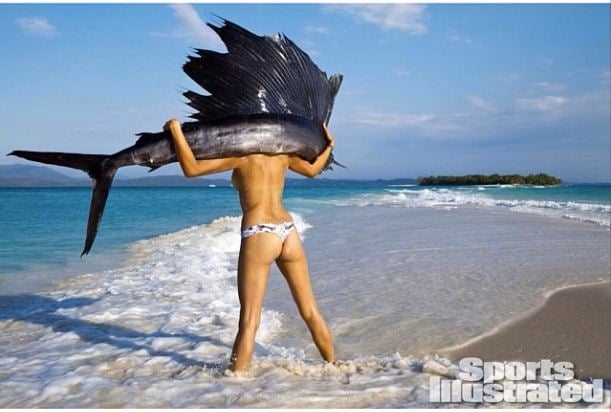 Well done, Jessica. Well done
Victoria Beckham and the case of the disappearing breast implants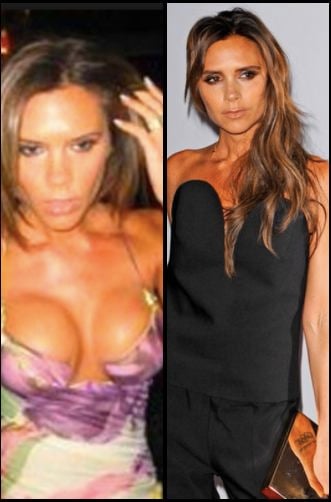 Former Spice Girl turned elegant fashion designer Victoria Beckham has revealed that she did get breast implants in the early 2000s… but she got rid of them years later.
In an interview with Allure magazine, Mrs Beckham confessed that she did get implants, but in 2009 she reverted back to her original size after seeing photos of herself where her breasts were "up around" her "neck" (photographic evidence to your left).
"I don't have them anymore," said Beckham.
Then added coyly: "I think I may have purchased them."
We personally wish she'd made this announcement by re-writing the Spice Girls hit When 2 Become 1 to reflect her breasty journey: "When two become none."
But, you know, a candid interview with a glossy magazine is fine too. We guess.
Shane Warne and Liz Hurley are nearly almost definitely back together this time. We think.

This Liz Hurley / Shane Warnerelationship really is a romance for the ages. As in, it's taking freaking ages for any of us to know for sure what's going on with these crazy love-birds.
The 48-year-old British supermodel and 44-year-old cricket legend are so coy about their on-again/off-again love affair, they leave us no choice but to stalk lovingly follow their social media interaction for clues.
The couple have not been physically seen together since November 2013. At that stage, they both un-followed each other on Twitter. It was a harsh time for all of us.
But just yesterday the couple were spotted in London, unloading suitcases and buying groceries together. More importantly, they followed each other on social media platform Twitter again.
And GET THIS: Shane Warne even follows Liz's pet budgie Ping Pong.
Which basically means it's love.
Maybe Liz was irresistibly wooed by Shane's exceptional selfie skills.
Also – maybe not.
Follow Mamamia Fluff on Facebook

Mamamia Fluff brings you the most awesome celebrity news and gossip from around the world.
When famous people misbehave, get married, have babies, or do something ridiculous – you'll be the first to know.