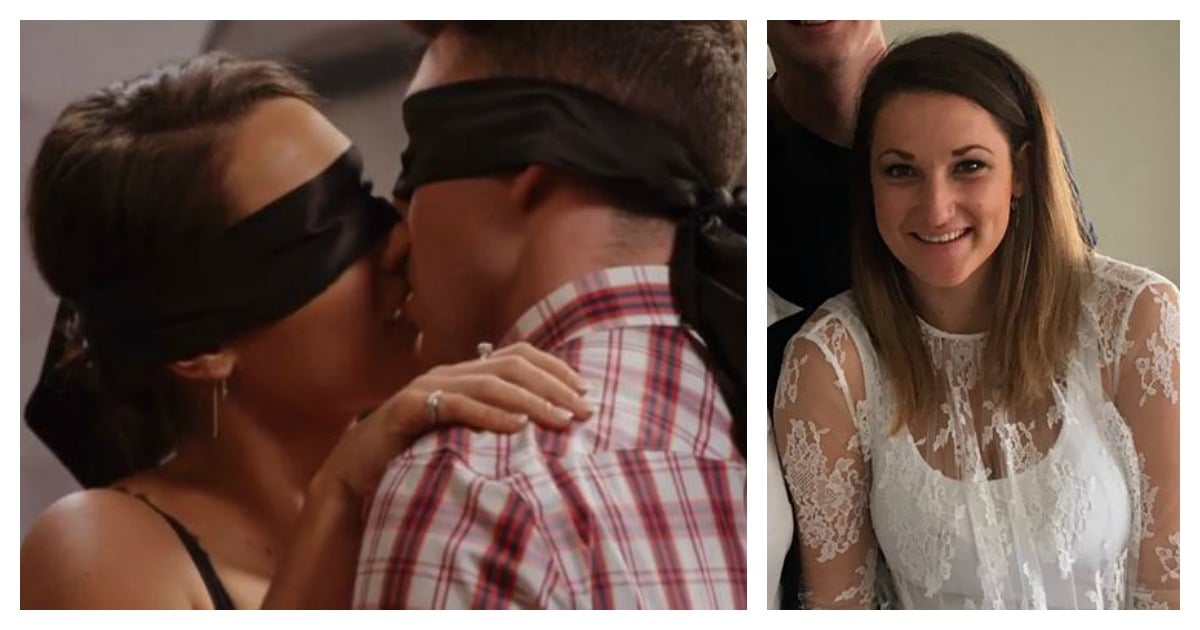 It's the show that spawned a tirade of controversy before it even began, but Kiss Bang Love is proving to be a winner for Australian reality television.
For those not clued in, the show goes like this: The contestant kisses 12 blindfolded strangers (while two friends watch on) and gives them a score out of 10. From there, five finalists are chosen for a chat and un-blindfolded kiss. Then the contestant takes two of the selected kissers on overnight dates, and then the final one is taken on a week long holiday.
In last night's episode, we met 26-year-old Geordie who likes training for Ironman competitions and says his dad is his hero.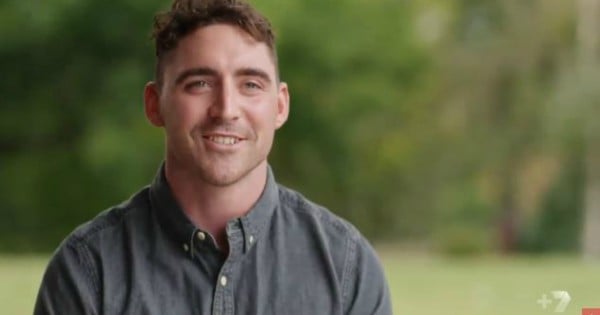 Geordie, who at the end was (SPOILER) confronted with the decision between Bron, the girl he had been seeing and subsequently friend-zoned before the show, and Shana, a miner turned model. He chose Shana, while Bron was forced to leave the airport and spend the rest of her life contemplating why she thought it was a good idea to chase the guy who had friend-zoned her on to a reality TV show.
One of Geordie's 12 girls he has to choose from was Polly McDouall, a 22-year-old student from Sydney, has revealed exclusively to Mamamia the extensive application process and what it really feels like to kiss a stranger.
You can watch Polly and Geordie's moment of magic below (Polly's the one in black). Post continues after video... 
MM: Why did you decide to go on the show?
Polly: It was quite a spontaneous decision. I had never planned to apply for the show until a lady approached me one night out at Coogee Bay Hotel and asked if I'd be interested in going on the show. She said I had the 'perfect personality' for reality T.V and asked if she could have my phone number for the producers to get in contact with me.
I had recently come out of a bad two-year relationship and thought why not? It seemed like fun and if a kiss lead to love then even better. The next morning I was contacted by a recruiter for the show and it all went from there.
MM: What was the application process like?
Polly: It was quite a long process. To begin with I had to send in a short video about myself and why I wanted to go on Kiss Bang Love. The video was accompanied with a questionnaire about my personality, my past relationships, what I look for in a partner and what I look for in a 'perfect' kiss. We also had to attach recent full body photos and headshots. I then had a phone interview about a week later and then received an email saying I had made it through to the next round of casting.
The next part of the application involved filling out personality tests, psychological tests and getting a police check. About three weeks later I received a phone call saying the producers thought I would be a good match with one of the candidates. I was hesitant in the beginning but everyone around me (including my parents) told me to go for it.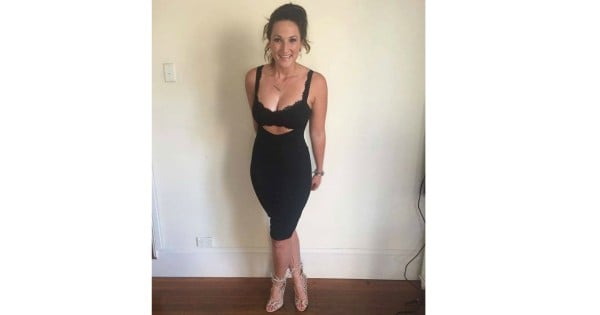 We then had to send through pictures of ourselves wearing different outfits that we would wear on a date. We had some say in what we wore but the final decision was made by wardrobe.
MM: What did the producers ask you when you were applying?
Polly:
- What is your best and worst qualities?
- What do you look for in a partner?
- Do you think you are a good kisser?
- Do you believe in love at first kiss?
- How many long-term relationships have you been in?
- Why did your last relationship end?
- Are you looking for a long-term partner?
MM: Did you know who Geordie was before you kissed him?
Polly: Not at all! The first time I saw his face was when I watched the preview last week. We knew nothing about him, not even his age. We also had no idea that there were two girls in the room who knew him. Both of them pretended they were in the same shoes as us and were attempting to guess what he looked like. Bron had known him for ten years and had to pretend she knew nothing about him.
MM: What was it like walking in the room with the blindfold on?
Polly: It was terrifying and hilarious all at the same time. The whole process feels like it takes a lifetime. You stand outside a door and somebody places a blindfold on you. The door then opens and somebody walks you in and places you on a mark. You then stand there for what feels like hours before somebody whispers in your ear you may now kiss. I couldn't stop smiling to myself and trying not to laugh.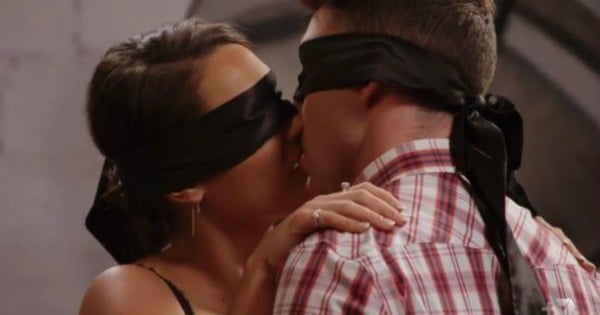 I knew that there were cameras in my face and assumed there was a group of people watching me but I genuinely couldn't see a thing. I just kept thinking to myself, "what the f$#k am I doing. I'm about to kiss a stranger on national television".
MM: What was it like kissing with a blindfold on?
Polly: Surprisingly it just works! I was really nervous about this part of the show and how it might turn out on national television. When they said, "you may now kiss" I just kind of put my hands out and walked forward awkwardly until I found him. Then you just kind of find each other's lips. There were no head bumps or teeth clashes.
Once you start kissing you forget the cameras are there. It was surprisingly natural and I had no obligations towards him so I just tried to enjoy the kiss. I couldn't shake the thought that it was going to be on television though so I know I held back. It is also different kissing someone who you have no idea what they look like. Kissing for me is really personal and is better when you have feelings for someone and there was obviously none of that with him.
Mamamia's podcast, The Binge, recaps Kiss Bang Love below. Post continues after podcast...
MM: Was he a good kisser?
Polly: [Laughs] He was a reasonably good kisser. We kissed for longer then I was expecting and it was a more full on pash than I thought would have happened with a blindfold on. I didn't come out of it with my mind blown or hoping I was going to fall in love with the guy, but it was enjoyable. It was by no means a bad kiss but we just didn't really have a spark.
MM: What has the reaction been from your friends and family since the show?
Polly: The majority of my friends and family thought it was hilarious and encouraged me to go on it for some fun. I don't take things too seriously and I thought it would be a lot of fun. Some people ask me 'why on earth I would do that to myself' but I don't regret it at all.
MM: Was the reality TV process like?
Polly: It was very different to what I expected. All of the evil looks between the girls, the group shots of us drinking champagne and the slow walks down the corridor is all staged. You film the 'nervous walk' down the corridor hours before you go in to kiss. But the rest of it is 100 per cent real.
We genuinely had no idea who he was and went into the room blindfolded and kissed him. That was all shot in one take and there were no second chances. There is nothing fake about the kisses or interviews, but there was no bad blood between any of the girls. The shot of us all folding arms and death staring each other took over 10 takes to film because we all just kept laughing. There were also some very interesting choices in girls. Some of the girls were definitely on the show for viewing value and not because they would be a good match with Geordie.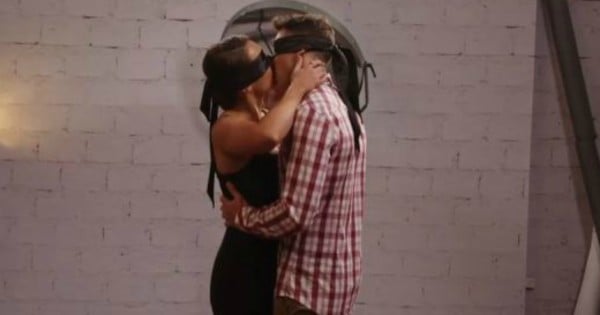 Some of the girls were also very serious about making it through to the end. One of the girls in the first five minutes we were there stated, "I'm not going to beat around the bush, we are all here competing to get a boyfriend". Not naming names but the girl who said that 'won' … This was definitely not my intention. I went on the show for some fun and a good pash and that's exactly what I got.
I also remember thinking that I wanted to be kicked off in the first round rather then the second round. Because the second round is pretty much purely based on looks and I thought it would be more embarrassing and hurtful for someone to think you were a good kisser but then to not find you attractive, rather then just not having a spark with somebody.
MM: Okay, so finally, would you do reality TV again?
Polly: 100 per cent! I really enjoyed the whole experience. Channel 7 didn't take anything out of context or make anyone look over stupid. I would definitely encourage anyone who was thinking about applying to do it.