"I'm throwing away Steve Smith's gloves," 13-year-old Daniel announced to his parents yesterday.
The die-hard cricket fan, who won the best bowler trophy for his under 14s club cricket division on the day Australian cricket captain Steve Smith was stood down, is disgusted. Until yesterday, one of his most prized possessions was a pair of Steve Smith's gloves, given to him by someone who knows the former captain.
But now that's all changed.
On the weekend, both Steve Smith and vice captain David Warner were removed from their positions for their part in the South African test match ball tampering scandal. It's an embarrassment for Australia and Australian cricket. And it's a different sort of devastation for the younger fans of the sport, who idolised their cricket heroes.
At age 13, and an experienced bowler himself, Daniel needed no explanation from any adults about what transpired. He knows cheating when he sees it.
He understood that the stakes were high and the pressure was on both teams, as it could potentially have been the first match since the fall of apartheid that South Africa might win on home soil.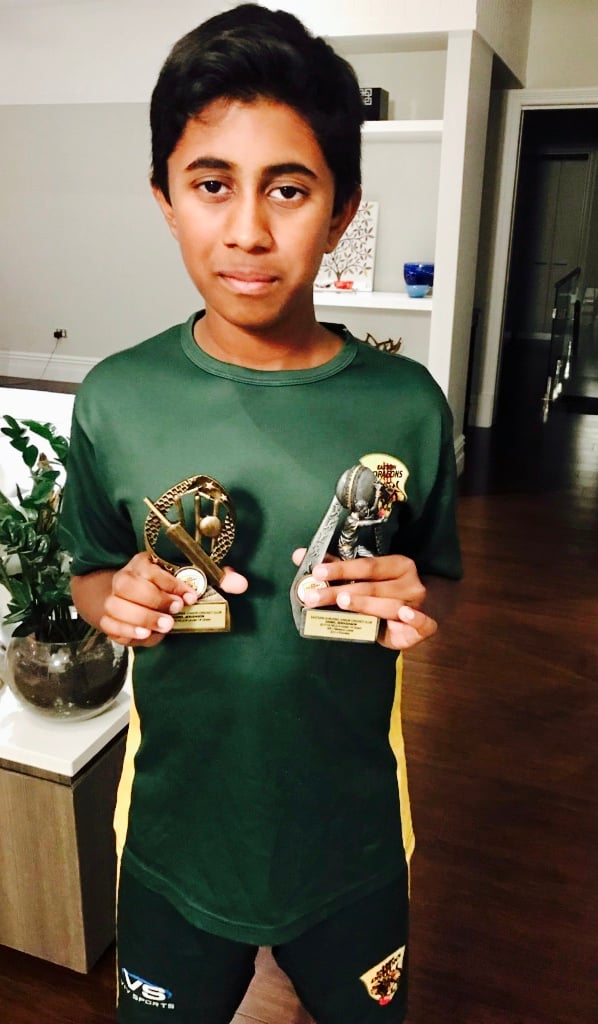 Daniel also understood that at some stage during the lunch break, Steve Smith decided that the team should tamper with the ball to control its aerodynamics. As a spin bowler himself, Daniel comprehended the physics of 'roughing up' the ball.
And Daniel watched, with the rest of the world, batsman Cameron Bancroft rub a scrap of yellow tape on the pitch and then shove it down his pants when he remembered that the match was being televised - and when he was questioned about what he was doing by umpires.
So Daniel understood the 'how' of the events clearly. What he struggled with was why.
Can we talk about this? pic.twitter.com/cmpRrOArgD

— Dale Steyn (@DaleSteyn62) March 24, 2018

Shaking his head in disbelief at what he was witnessing, Daniel said to his parents, "Don't they realise it's better to lose but try hard, than to cheat and win?"
It's a mantra that is drilled into our kids at sporting venues all around Australia, every week. We expect the highest standards at an amateur level; so how highly-paid professionals can demonstrate such appalling sportsmanship defies the comprehension of anyone involved in a sporting game - especially the young minds who are taught to respect their sport above all else.
Is there a double-standard? Do our Australian cricketers think they're above that standard? It would appear so.
That's definitely a conversation that Daniel had with his parents; trying to make sense of why the people paid to represent our country would so openly flaunt the rules and dishonour the game.
Of course, it was a discussion that's been repeated in households all over Australia: why did they break the rules? How did they think they could get away with it? If I did that, I'd be suspended for the rest of the season. 
I thought they were supposed to know better?
Sports reporter Tim Gilbert said on The Today Show this morning, "It is an awful look for young children. All of us on the desk are parents of young children who love sport. You have to try and tell them about what happened and explain it in a frank fashion, but continue to love the game going forward."
Being interviewed by Gilbert, Kate Palmer from the Australian Sports Commission responded, "That is the key thing for me. The impact on thousands of thousands of children. There is a real cultural issue here at play. This is Australia's game, and we want it to take its rightful place in Australia and the world...We need to address this very, very serious issue."
Just eavesdropping on the husband explaining the potted history of Australian cricket's low points to the son... A conversation I imagine is happening right around the nation about now.#BallTampering

— Wendy Harmer (@wendy_harmer) March 25, 2018
Mr 9yo this AM. "If Smith told Bancroft to jump off a cliff, would he, mum?" Important lessons for parents of cricket-mad kids today. Not lessons in sport, but life. Know what's right. #balltampering #Cricket #SAvAUS

— Erin Delahunty (@della79) March 24, 2018
The disappointment felt by Aussie kids learning about how their heroes have been disgraced by behaviour that even they, as children, would never deliver, has added another layer to the saga. And it's something that Smith, Warner, and Bancroft will have on their consciences.
But, there's hope. After his confusion subsided, Daniel came up with a plan before those in a leadership position (Cricket Australia) did.
"If I was CEO of Cricket Australia, I'd ban Smith and [vice captain] Warner for a year to teach them respect for the game," he told his parents.
"But also, I'd ban them from leadership positions for life. If they were allowed to lead again, this will keep happening. They knew the rules and didn't care, so that's the kind of people they are."
Daniel also said that if Bancroft had truly respected the game, he wouldn't have agreed to tamper with the ball in the first place. So he suggested that new players be brought into the team, and the first thing they should be taught is to "play the match in the spirit is should be played in, and teach them to respect the game."
Because our kids understand better than the professionals that without that respect, it's just not cricket.
We discuss the Saturday Sport conundrum every parent can relate to, on our family podcast.