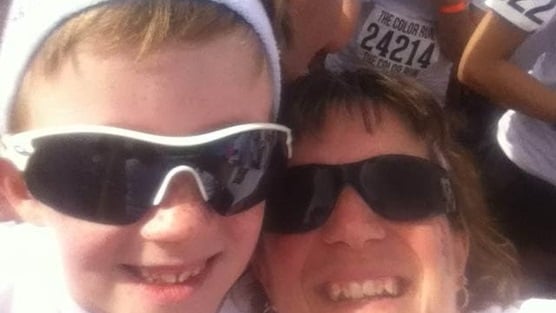 She is half way there, but with your support she could save her son.
There is nothing worse than seeing your child in pain.
Actually there is. Knowing they could have treatment but not being able to have access to it.
That is the reality for Kate Turner. Her 8-year-old son, Joshua, has a rare disease called Arteriovenous malformation. Because of the disease, he may need to have his foot amputated.
However, there is a solution. Joshua needs to have specialist interstate treatment, available in Melbourne. Unfortunately, the treatment isn't available in Adelaide where they live and they are unable to afford the trips to Melbourne for treatment.
So Kate went through the normal procedures and requested access to the SA government's financial aid service, Patient Assistance Transport Scheme (PATS). And was rejected.
"They're saying travelling to Melbourne for the only treatment that could save my son's foot is 'seeking a second opinion'. It means they won't allow us into the patient transport access scheme, the only way we're going to be able to afford to get him to the hospital treatment every three months," Kate wrote on Change.com.
She continued, "I just can't understand it. Amputating my 8 year old son's foot is unacceptable to us. It's a last resort. Specialists are saying they can save it, just the doctors in Adelaide don't offer the treatment. It's as if they see saving my son's foot is a luxury. For lots of other conditions patients are given support to travel and get the treatment they need. Our problem is that we can't afford all this interstate travel without this support – we desperately need access to the scheme if we're going to save Joshua's foot."
Kate took to Change.com to ask parents across Australia to support her plea to get South Australian Premier Weatherill to intervene.
As the petition reached 17,000 signatures, The Advertiser approached Premier Weatherill asking for a comment.
To which he responded, "I have asked the Health Minister for his office to make contact with Ms Turner this week to see what assistance we can provide. From what I understand from reading the story they wouldn't have strictly qualified under the PATS rules for whatever reason. But I'll make sure that this gets fixed. I'll contact the office and I'll contact Ms Turner today and make sure it gets fixed."
Kate is still waiting on a response from the SA government and, at the time of publishing, has reached 77,000 signatures. She is half way to her goal of 150,000 and every signature makes a difference in making sure the government supports this little boy.
To help, fill in you details here:
Jay Weatherill: help us save our son's foot – don't reject us from the patient travel scheme so Joshua can get treatment.
Want more? Try:
This family broke the streak with this adorable little arrival.
Someone is trying to live your life by stealing your online photos.