The year was 1963. John F Kennedy was still president, a gallon of milk cost you 49 cents and the Oscars were a slightly smaller affair. Albeit, hosted by Frank Sinatra.
Joan Crawford swept up on stage to rapturous applause to accept the Best Actress Oscar. Wearing a baby pink, low-back gown covered in chandelier-style jewels, she beamed down at the faces of her fellow Hollywood stars as she approached the lectern.
Listen: The story behind Hollywood's biggest feud. 

Bette Davis, her co-star in that year's box office hit What Ever Happened To Baby Jane, watched on from the audience, no hint of a smile on her face.
It should have been her on that stage, not Crawford.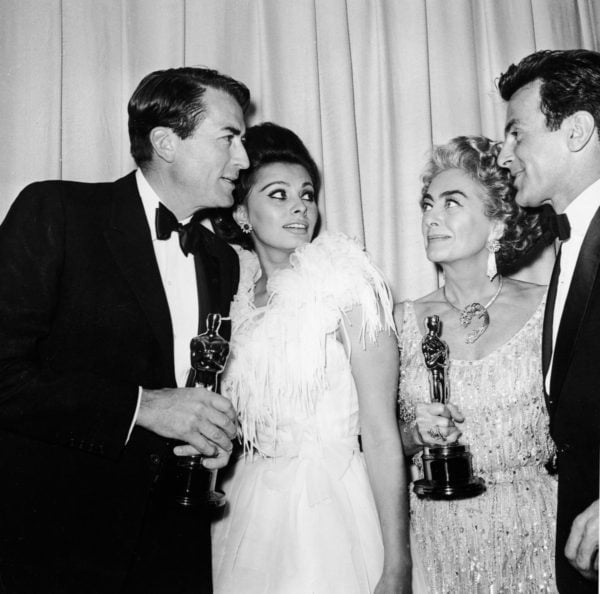 It's not a matter of opinion - Davis was the one nominated for the coveted award. Crawford, jealous that her co-star - and arch-nemesis- had upstaged her, called every other actress nominated for the prize and offered to accept it on their behalf should they be unable to attend on the night.
And so, when Anne Bancroft's name was announced as the winner for her turn in The Miracle Worker, it was 59 year old Crawford - not even nominated - who gave the acceptance speech and walked away ecstatic with Oscar held firmly in her hand.
"It would have meant a million more dollars to our film if I had won. Joan was thrilled I hadn't," Davis later commented.
It wasn't the first Oscars to bear the brunt of the intense rivalry of former Hollywood heavyweights Joan Crawford and Bette Davis, nor was it the first (or last) time one had gone out of their way to hurt or undermine the other.