If you tune into Jimmy Kimmel Live! this week, you may notice something missing.
However the TV host's absence is for a good – and important – reason.
His seven month-old son William John "Billy" Kimmel has undergone "a scheduled and successful heart surgery", according to a statement released by ABC yesterday.
It's the second heart operation Billy has had, the first being at just three days old due to his condition, the tetralogy of Fallot with pulmonary atresia.
"Basically, the pulmonary valve was completely blocked and he has a hole in the wall between the left and right sides of his heart," the TV host explained in an emotional monologue in May.
"He appeared to be a to be a normal, healthy baby until about three hours after he was born," he said.
A "very attentive nurse" noticed that Billy had a murmur in his heart and was a "bit purple".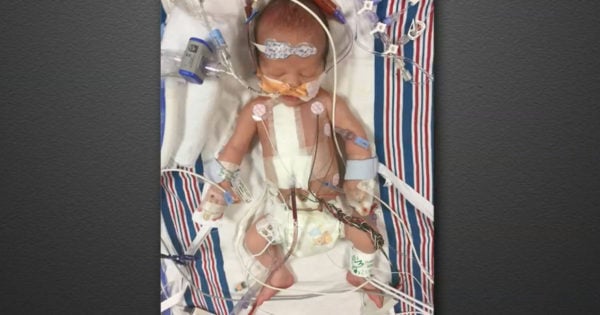 The second surgery was originally scheduled to take place in October but had to be postponed "due to the common cold".
As a result, Kimmel will "be with his family" this week, including wife Molly McNearney, Billy and three year-old daughter Jane.
In his place, will be... just about every celebrity you can think of.
Chris Pratt was first off on Monday while the rest of the week features Tracee Ellis Ross, Neil Patrick Harris and Melissa McCarthy as well as guests Margot Robbie, Mary J. Blige, Octavia Spencer, Dave Franco and Hanson.
We're sending love and thoughts to the Kimmels.