How equipped are we to act when faced with a catastrophic situation?
A week after risking her life to pull sisters Jessica and Annabelle Falkholt from the devastating Boxing Day car wreck near Bendalong on the South Coast, Lisa Elmas continues to put others before herself.
The moment she came upon the tail-end of the collision, the 44-year-old single mother of three from Mollymook pulled her car off the road. Without hesitation, she sprang into action, very clear about what the priority was.
"I just knew I had to get those girls out of the car," says Lisa. "I could see the flames underneath. I knew it was going to explode."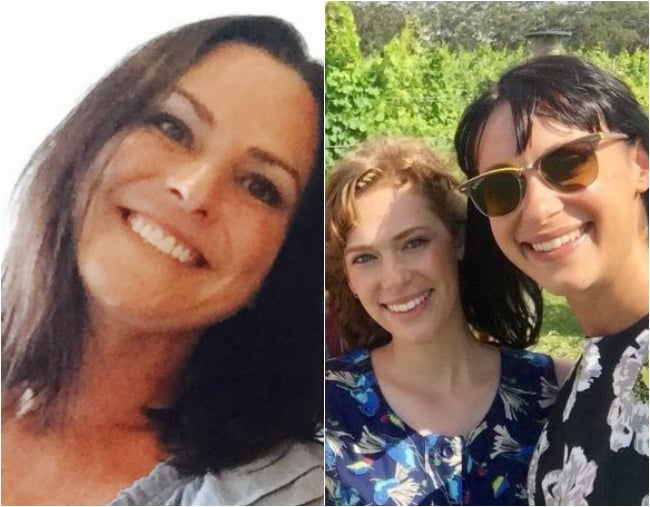 She called for onlookers to get whatever they had in their cars that might be used to help and throw it on the ground.
After checking for pulses, she temporarily put out the flames with three small fire extinguishers before using one of them to smash the car windows. Another onlooker handed her latex gloves, and manicure scissors, which she used to cut through the seatbelts.
After dragging the girls from the car with assistance from other civilians with just seconds to spare, she stayed with them until ambulances arrived and they were helicoptered out, with no training other than a basic first aid course done years ago.
Lisa is especially grateful for the support of off-duty paramedic Aaron Mcneill and his wife Tasia Eve Nita from Brisbane, who assisted in the triage of the girls until ambulances arrived.
"I'm still in awe of Lisa's efforts that day," says Aaron. "I'm trained to deal with such things and I can honestly say that was one of the worst. It will also stay with me forever too. Lisa is a hero in my eyes. I literally cannot thank her enough."
She also recalls the assistance of a young female doctor just out of medical school.
"Without the support of onlookers and the community supplying medical supplies and fire extinguishers, I would have felt helpless," says Lisa.
"Everybody there did the best they could under the circumstances. My heart goes out to everyone who witnessed this tragedy."
"I was on autopilot. I don't even know how I knew what to do. I just did it."
The first emergency personnel to arrive on the scene commended Lisa for her actions, telling her she did everything right. Sadly, Annabelle Falkholt, 21, has since died in hospital from her injuries. Her sister, Jessica Falkholt, 28, remains in a coma in hospital in a critical condition. Their parents, Lars and Vivien Falkholt, 69 and 60, died at the scene, along with the driver of the other car, Craig Whitall, 50.
"Those two beautiful girls and this tragedy will stay with me forever," Lisa says.
Tony Bewley, a retained firefighter from Ulladulla who attended the accident and spent time with Lisa during the aftermath, has praised her courage and heroism.
"When we arrived, it had already happened," he says. "What Lisa did was tremendous. A lot of people can't do that. To get in there and take action is a huge achievement. To have the courage to stop and confront that scene… it would have been horrific. She did the right thing. She got those two girls out.
"The hardest thing for us is on our way there we heard on our radio communications that the second car was now on fire and we knew we were still ten minutes away. For the public to take action, rather than saying 'The fire brigade will be here soon' requires people to step forward. For Lisa to do that was great. She did her best.
"In small communities like this, we're not based at our fire station so we rely on people like Lisa to stand up and get in there and do their best.
"She's now got to get on with her life and it's going to be hard. I take my hat off to her for what she's done.
"She's going to go through the hardest part now. She'll have guilt, she'll have anger, she'll have all these emotions and the toughest battle is getting through these next weeks. This is where she's going to need to be her strongest."
While people are calling for Lisa to be nominated for a bravery award for her actions, it's not something she wants to think about.
What she wants is for something constructive to come out of the tragedy.
She wants to see mandatory fire extinguishers, LifeHammers and first aid kits in every car on the road.
"And I'd like to see anyone on a pension, who can't afford it, to be given these things free of charge when they register their cars," she says.
She believes people will be more inclined to step up and help in emergency situations if they have the tools on hand.
"I don't feel heroic in any way, shape or form," Lisa says. "I feel devastated by the experience. I just did what I could to help. And it wasn't just me. Many other people helped too."
While dealing with the emotional aftermath of her involvement in the accident, Lisa continues to help those around her. Two days after the accident, she went through her pantry and took two boxes of food to a friend whose pay had been delayed over Christmas.
"That's Lisa," explains a close friend. "That's just who she is. She looks after people. She didn't hesitate for a second to help those people. She just got in there without a thought for her own safety."
Lisa asks everyone to direct their prayers towards Jessica Falkholt and the family and friends of all the accident victims. "I hope people will show respect for all the families involved. A lot of lives have been affected. I just want everyone to focus on driving safely."
Lisa's hope moving forward? For people to help others wherever they can.
"Just be kind to each other," says Lisa. "Show compassion and do whatever you can to help with whatever means you have available."
Emily Richardson is a freelance writer and author of one novel, The Nile is a Road. She is also the mother of two boys.