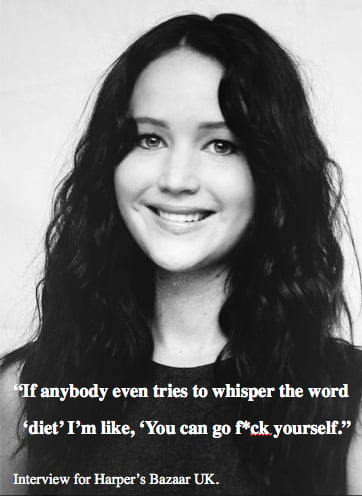 At just 22, Jennifer Lawrence has already had the career most seasoned actors can only dream of.
Having never taken an acting class, at 14 she convinced her parents to let her get an agent after having enjoyed a stint in a local community theatre.
Some bit parts in TV followed (including a hilarious MTV commercial where she played one of the 'My Super Sweet 16' girls), before she burst onto the international stage with her breakout role in 2010's Winter's Bone – earning her first Oscars nomination at just 20.
Cut to a lead role in not one, but TWO major franchises: in 2011 she played Mystique in X-Men: First Class and in 2012 she scored the highly coveted role of Katniss Everdeen in The Hunger Games (with multiple films for both to follow).
And as if ALL THAT wasn't enough, in late 2012 Jennifer's role in Silver Lining's Playbook was lauded by critics the world over and lead to her second Oscar nomination and (this time) win. And the girl is still ONLY 22.
But the incredible wunderkind-like career isn't the only reason we love Jennifer Lawrence. Her self-deprecating humour and laid-back attitude towards Hollywood have resulted in pretty much every woman on earth wishing they could have her as a BFF. The girl is just so damn endearing.
Here's 7 reasons why Jennifer Lawrence is pretty much awesome in every way:
1. Every acceptance speech she's ever given. Ever.
But the most hilarious so far would have to be her 2012 Golden Globes win for Silver Lining's Playbook:
2. Her refusal to bow to skinny-pressure in Hollywood.
In a 2012 interview, Jennifer gave her honest (and refreshing) opinion about the pressure actresses face to look a certain way:
"I'm never going to starve myself for a part… I don't want little girls to be like, 'Oh, I want to look like Katniss, so I'm going to skip dinner. That's something I was really conscious of during training, when you're trying to get your body to look exactly right. I was trying to get my body to look fit and strong- not thin and underfed."
And this:
"In Hollywood, I'm obese. I'm considered a fat actress… I'm never going to starve myself for a part. I keep waiting for that one role to come along that scares me enough into dieting, and it just can't happen."
3. Her incredible style.