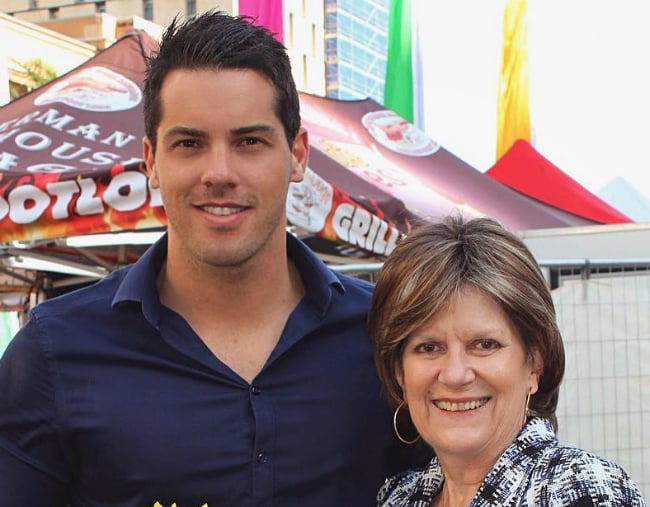 This year 2016 Bachelorette star Jake Ellis lost his hero, "the strongest, most special" person in his life – his mother, Robyn.
After her first breast cancer diagnosis more than 25 years earlier, the Gold Coast woman succumbed to the disease in January. "Forever I love you, forever I miss you, forever in our hearts," Jake wrote on Instagram at the time.
Nearly six months on, the 32-year-old's grief is still raw.
"I'm still very much heartbroken. I'm fine for a week or so and then I have a moment where it hits me like a freight train, and in those moment I am very much still grieving, very much still dealing with it," he told Mamamia.
"But I think I just try and share the positive side of what's come out of it. My family and I, we are so close and our mum's memory is so strong."
It's in honour of that memory that Jake has signed on as the newest ambassador for the National Breast Cancer Foundation. Currently, eight Australian women die from the disease each day. But by funding world-class research, NBCF is working toward a goal of achieving zero deaths from breast cancer by 2030.
"I'm overwhelmed to have the opportunity to be the ambassador, and I'm really excited to to help in whatever way I can," Jake said.
"My mum and I did a lot of stuff together with charities. Mum was always by my side and she was always there helping other people as well. And this is something that I really want to continue on a much bigger scale."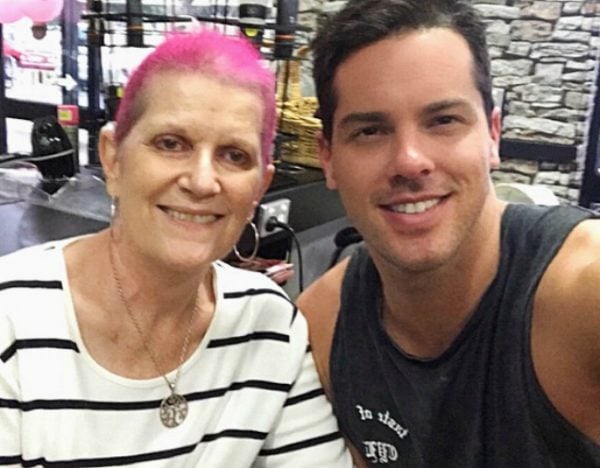 "I never thought we'd actually lose her."
Jake was just five years old when Robyn was first diagnosed. Though he remembers little of that time, the feeling, the sounds, the smells of the hospital have stuck with him - "I still can't get used to being in a hospital; I just don't like it."
Still, his mother's disease didn't consume his childhood or that of his younger brother, Luke. Robyn had done her best to shield her boys from the stresses of her disease.
After intensive treatment, she emerged cancer-free and remained so until 2011 when her cancer returned. This time it had taken hold in her liver and lymph nodes.
"Each time it came back [over the next seven years] it was in a different part of her body, which was very scary for her and for us as well. But each time she knocked it down and kept going," he said.
When Jake left for Fiji to film Channel 10 matchmaking show Bachelor in Paradise late 2017, she'd just beaten another bout - spots on her liver.
"We got really good results, and it seemed to be that she was in the clear, for the time being. But I was away for three-and-a-half weeks for filming, and almost as soon as I came back at the start of December she took a turn for the worse," he said.
Though part of him knew it was coming, the reality of facing his mother's death was hard to grasp.
"It scared the sh*t out of me - excuse my language," he said. "As much as it sounds optimistic, I never thought we'd actually lose her to cancer, because over those 25 years she had continually fought, she continually beat it."
But over the next two weeks, Robyn's condition deteriorated. On her birthday, in the second week of December, she was rushed to hospital from her sister's place.
"We thought we would be a lose her that day. But she she said to my aunty and to myself, when we were in the ambulance with her, that this wasn't how she wanted to go - she wanted to be around her family and friends. She held on for another month and that's what she did. She had whole family by her side."
Robyn died on January 5, 2018.
"It's hard to watch a loved one being in the fight of their life."
Part of Jake's motivation to work with the NBCF is seeing the way organisations have helped support the development (and improvement) of breast cancer treatments - improvements that benefited his mum.
"The first time it was so scary and so daunting," Jake said. "Mum had a double mastectomy and very high levels of chemotherapy, and needed a stem cell transplant just to help her survive the treatment. Flash forward 20 years [to when her cancer returned] and the technology and the treatment were so different.
"It wasn't as invasive, so it was easier not just for her and but for the family as well."
But the other part of Jake's drive is to share what he's learned - especially with men - about developing and drawing on support networks as a relative or loved one of a cancer patient.
"As a family member, it's hard to watch a loved one being in the fight of their life and not being able to do anything to take that away," he said.
"But there are so many people that have been through something similar. There's always someone to lean on or someone to vent those fears and frustrations to, or to talk about what might be confusing to you. You're not alone."
Jake's partner, Megan Marx, a former Bachelor contestant whom he started dating on Bachelor in Paradise, has proved to be an integral part of his network.
"Our relationship was still very new and we were long distance for a period of time, and when [Robyn died] she dropped everything and she came straight over here and was here for me and here by my side."
His family, too, have been able to lean on each other.
"The biggest thing that Mum wanted for us was that my brother and I would be best friends, that our family would be really close," he said. "I think the fact that that was instilled in us from such a young age definitely helped."
As does his new role with NBCF; knowing that he's expressing his mother's generous spirit, potentially helping others who've been in her situation and in his.
"To me Mum is watching this, and she's doing all she can, guiding me. It's all for Mum and it's all to help other people that are going through something similar," he said. "I understand what people may be feeling, and as much as I wish I could have helped Mum, I hope I can help others."