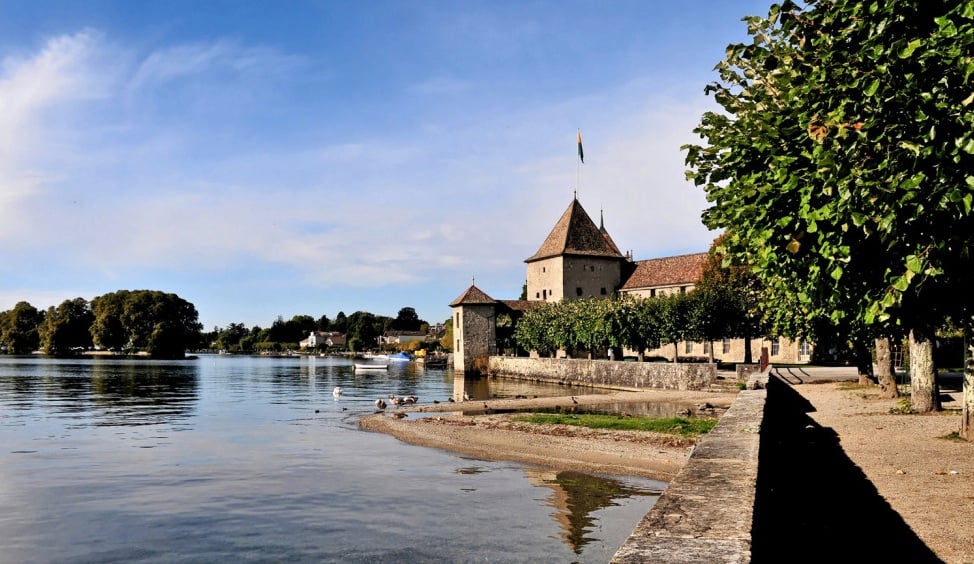 So what does $170,00 a year buy you?
Welcome to the world of luxury day spas, and equestrian centres, of 38ft yachts and plush quarters with separate ensuites.
Welcome to the world of 1000 seat concert halls and 28 hectares of "magnificent landscaped grounds".
Welcome to the world of summer lake side campuses and winter chalets.
Not the enclave of a Hollywood star and her husband.
Not a secluded villa for the royals to spend their summers.
But a school.
Though, truth be told this isn't just any school - this school is the most expensive school in the world.
A place where an education amongst the childhood elite costs you a cool $170,000 a year.
And you thought Sydney private schooling was pricey.
The school, Institut Le Rosey is situated on the shores of the picturesque Lake Geneva.
It's so beautiful you need those $400 Armani sunglasses to shield your eyes from what lays before you.
The co-educational boarding school, the oldest school in Switzerland, boasts 28 hectares of landscaped grounds, a day spa, a shooting range, a 1,000 seat concert theatre, 79 bedrooms each sleeping one to three students, with ensuites. It has eight science laboratories, two health centres, a computer generated greenhouse, an IT centre, a travel office, two cafeterias and three dining halls.
Phew.
But the school, which is on a publicity blitz around the world trying to attract students insists their calibre of kid isn't just about the moula. Seriously. You have to be smart too, supposedly.
Of the 400 students from more than 60 countries no more than 10% come from a single nation. The website for the school states "no more than 10% of students from one country or group of countries with the same dominant language are admitted."
So if you meet the nationality test, and you can afford the $170,000 a year fees your child still needs to meet the entrance criteria.
Students are expected to sit either the International Baccalaureate (IB) or the French baccalauréat and subjects are conducted in either English or French. The entrance criteria states that only those who are expected to get into a university are offered a place.
The education is obviously pretty swish with a teacher ratio of two teachers to every five students and kids expected to take at least three languages.
It's been an enclave for the rich and even richer for over 100 years. Famous alumni include King Fuad II of Egypt, Prince Albert II of Belgium, Dodi Al-Fayed, King Juan Carlos I of Spain  and Prince Rainier III of Monaco.
The day of an Institut Le Rosey boy or girl begins strictly at 7am. After they bathe and don their uniform, they attend a large buffet breakfast.
Classes begin at 8am and run till 3.30 – they then take part in extra curricular activities.
You might think this sounds similar to your own child's school day until you see just what these activities include.
There are ten tennis courts, a 25-metre pool with diving board, an archery range, a shooting range, dance halls, three football pitches, two beach volleyball courts, a baseball pitch, a woodchip running track, a skateboard park and an indoor basketball centre.
Oh and don't forget the equestrian centre, circus tent and eight-hole golf course with driving range.
In winter the whole school moves to the ski resort of Gstaad for January through to March.
It's not all fun and games though.
"Dinner is a strict affair," says the school's website, where students are expected to spend each evening with six other students and two other teachers, dining and conversing until they are allowed to leave to attend to their evening study before they collapse exhausted into their 2000 ply sheets.
The school's philosophy is to be "A School for Life"- at $2.2 million for an education you would almost hope it was a home for life too.
Would you fork out that amount a year on your kid's education?
Want more? Try:
"Am I wrong to send my son to school?"
You'll never believe how much it will cost you to put your child through school.
Follow iVillage on Facebook

When you become a parent, you don't leave your brain in the delivery suite. That's why mothers with kids of all ages come to themotherish.com; because they're still interested in news about entertainment, health, current affairs and food along with an inspiring and useful stream of parenting advice and support.

Most importantly, they come because they want to hear personal stories of parenting directly from other mothers, without fear of judgement.
[iv-signup-form]