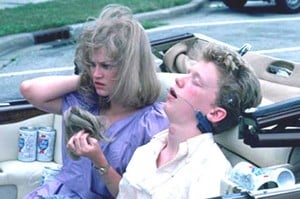 There are a lot of movies I watched as a kid that I've watched again as an adult. What the hell were my parents thinking? They are TOTALLY inappropriate for a kid.
This became especially apparent when I organised a 'family fun' movie night to introduce my children to the movie Big. I clearly recall this movie through the eyes of my 9-year-old self – not those of a responsible adult. If I'm honest, all I really remembered about the movie was 12-year-old Tom Hanks turning into a 30-year old man after making a wish at a carnival, then having fun with a massive keyboard in a toy store.
I do not remember all the F-bombs, or the moment Tom Hanks fondles a grown woman's breasts.
I'm not talking about inappropriate 'scary movies' here. I mean, they were designed to scare the shit out of us and if we were watching them, we deserved to reap what we sowed (ie never-ending nightmares of werewolves and men in ski-masks). No, I'm talking about the movies that were considered 'family friendly' and came with a rating of PG that allowed us to eagerly devour them as tweens.
Granted, at the time, most of it went over our heads and probably would still fly right past our very modern day children too, but I doubt a lot of these would get past the censors of 2015.
Why was it inappropriate?
Well for starters, let's look at Rizzo making fun of Sandy for being a virgin – essentially the worst case of peer pressure and bullying a teenager can receive. Rizzo dances around Sandy singing "Look at me, I'm Sandra Dee, lousy with virginity, won't go to bed 'til I'm legally wed, I can't, I'm Sandra Dee."
Then there were these lovely lyrics:
"Boosters, plates and shocks
I can get off my rocks
You know that I ain't braggin', she's a real pussy wagon"
And who could forget these classy lines:
"You know that ain't shit
We'll be getting lots of tit
In Greased Lightning!"
There are also references to 'gang bangs' and the infamous broken condom scene: Kenicke and Rizzo were getting into it in the back of his car when he pulled out a condom he called his "25 cent insurance policy". I literally thought it was an insurance policy. When he said "it broke!", I thought his policy had expired. It was a confusing time for an 8 year old who, in hindsight, probably had no business watching it anyway.
Oh, and last but not least, that part where Danny forced himself upon Sandy at the drive-in, despite her protests.
2. Ghostbusters (1984)
Who you gunna call?
Remember when a ghost gave one of the Ghostbusters (Dany Ackroyd) a BLOW JOB? No, you probably don't, because like me at 10 years of age, you didn't have a clue what oral sex was, or that it was happening in front of your very eyes. It's no surprise, then, that when a possessed Sigourney Weaver said "I want you inside me", I was clueless it had anything to do with sex. Way to spoil my childhood, Weaver.
It's fair to say a PG rating was a little too relaxed for this movie.