Cameron Daddo and his wife, Alison Brahe, were the Australian 'It' couple of the early '90s.
Like Brad and Angelina. But even better looking.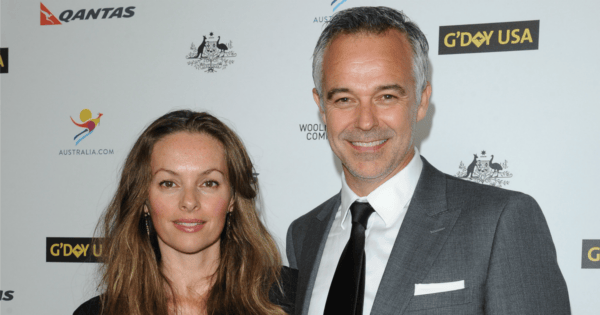 If you recognise Daddo, it's probably from dating game show Perfect Match, which he hosted from 1987-1988. He then moved to Los Angeles in 1992, where he appeared on shows such as 24, The Mentalist and Models Inc. over a number of years.
The family then moved back home to Australia, where Daddo was cast in the role of Captain Von Trapp in the 2016 production of The Sound of Music.
In his thirty years as an actor, Daddo's faced live audiences, film cameras, and theatres full of people.
What he hadn't faced, however, was Clare Gerber.
Clare Gerber is a video producer here at Mamamia. What she lacks in height, she makes up for in confidence.
Her most favourite thing in the world is trapping celebrities in tight spaces.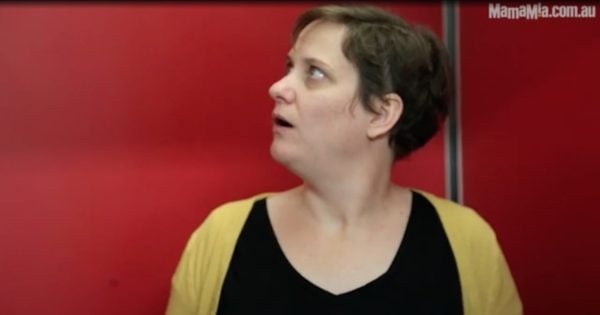 She has no shame; no sense of when to back down; and no appreciation for basic social etiquette.
But we love her all the same.
When Cameron Daddo came into the Mamamia offices for an interview with Mia Freedman (listen below) on her No Filter podcast, Clare (along with many of the other forty-something women in the office) couldn't help but ogle him.
Listen to Mia Freedman's interview with Cameron Daddo on No Filter, below. Post continues after audio.

As per usual, Clare asks the questions no one else would.
And to be honest... Daddo seems to take them pretty well.
You can watch the video at the top of this post.
Check out some of the other videos from our 'In a Lift' series here:
In a Lift with: Andrew Daddo - podcast host, actor, TV personality. 
In a Lift with: Guy Sebastian - Australian singer-songwriter. 
In a Lift with: Sarah Wilson - founder of the 'I Quit Sugar' movement.