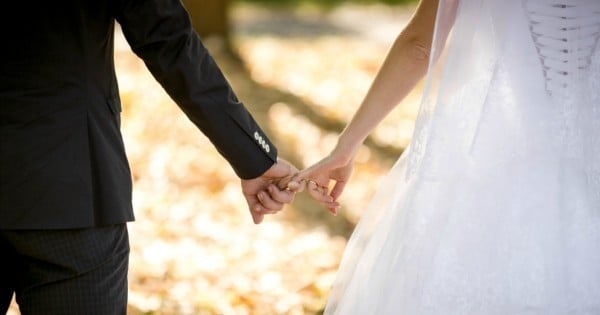 Dear Husband,
Today is our anniversary.
Not the anniversary of the day we met, or our first date, or our wedding day.
Nope. Today marks five years since you left me for another woman and I want a divorce.
It's been 1,825 days (give or take) since you decided that being married to me sucked more than anything on the planet.
That's 43,800 hours since you left me – crying, disbelieving, rejected – to wade through the pool of hopelessness that had become our marriage.
That's… Well, I don't know how many minutes it's been since you broke my fucking heart, took our house and tore my world apart, but I bet it's been a lot.
Look, I know it hasn't all been bad; in fact, the last five years without you have been some of the most rewarding of my life. I've travelled the world solo, gotten my university degree, lived abroad, enjoyed a successful writing career on the side and generally, you know, kicked life's ass to the max.
Watch: Women reveal the moment they knew they wanted a divorce (post continues after video).
I'm actually grateful for your lying, cheating ass leaving me because now I feel more in control of my life and my choices, and I gotta tell you, it feels freaking AMAZING.
I'm even grateful that you claimed our home as your own and moved your girlfriend in immediately because now you're stuck with the mortgage and the baggage of a crappy house in the "burbs", whilst I live on a tropical island in the South Pacific with my hunky, scuba-diving boyfriend.
So big ups to you for that.
I know this may come out of nowhere, since we've been separated for such a long time and we are kinda friends now (and by friends, I mean I no longer have the urge to run you down in my car), but I think it's finally time for you to do me a solid and actually – you know, legally — divorce me.
C'mon dude, we both know that you wanted this; that you decided to end our marriage because life with a 20-year-old seemed so much better. So why don't you just man up, accept the consequences of your decisions, and pay the bloody divorce fee so we can both just file this away forever?
It's not that I'm looking to get married again anytime soon or that I have some hidden hopes that one day we'll reconcile (spoiler alert: we WON'T). As T-Swift said so poetically: "We are never, ever, EVER getting back together".