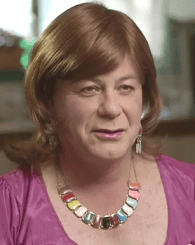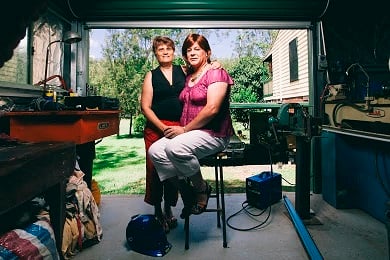 It was quite frightening when my husband told me he was a cross-dresser. My first thoughts were to run away as far as I could.
It was still a new relationship, and he told me early on to avoid the type of heartache that broke up his first marriage. He was such a wonderful person. I really wanted to get to know him better. I decided to give him a few more chances to buy me dinner and to find out more.
I was much luckier than a lot of women who have been with their male partners for several years and then suddenly find another woman in the relationship; a female version of their partner that they knew nothing about.  The most common complaint being: 'if he lied about that, what other lies has he been telling me all these years?'
When I found out, I was worried that I would be looked at as a failure, once again, because I ended up with another 'loser'. People would judge me by the man I was with.  Many people assume that a cross-dresser must be gay, or that they are on the path to total transformation into a woman. This was not the case with my husband.
Over the next months, I asked about his cross-dressing whenever I felt I was ready to hear it. I've learnt that many cross-dressers find the desire early in life, but feel that it is wrong and keep the secret for as long as possible. I was lucky because my husband wasn't keeping it a secret. He would tell me as much as he was able to hear, but we regularly needed to pause the conversation so I could absorb it all.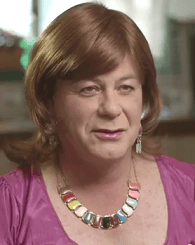 My first experience of seeing my partner as a woman was through photographs he had done previously. After we had been together for a while, I had a shower one day and as I emerged from the bathroom, believing there were only the two of us there, I was shocked to see another woman in the room.
I did not recognise her at all. When I did, I just laughed, it was not what I expected at all, I had expected a more unisex-type of clothing, but he liked all the frills, colours and styles that any well-dressed woman would wear.
Over time, Susan (the female side of my partner) became a great friend. I had both, the supportive strong male known as Peter and the caring friendship of Susan. Shopping was another experience altogether.
I love going to Bunnings, just to see all the amazing things that are available out there. Clothes shopping never did much for me. Susan taught me that it is OK to have more than two outfits and that I can buy a pair of shoes just because they look good, even if they're not very practical.
The first really big event I went to with Susan was the inaugural Seahorse Ball, held by Australia's oldest cross-dressing society. I was very concerned that I would be mistaken for a cross-dressed male. The annual balls have been a wonderful social outing where everyone enjoys themselves, wearing fabulous gowns, or just enjoying the vast parade of beautiful women.
Susan was still learning too, about passing as a woman. The first time we went shopping together, Susan saw the solicitor that Peter had used to purchase a property recently and was sure that he would be recognised as Peter dressed as a woman. Of course, she walked straight past without a second glance.
We now live in a fairly isolated location, although we do have a great bunch of neighbours. In such a small community, we can't go far without running into one of the neighbours and they all know Peter, but they have come to accept Susan too, whether they know exactly who Susan is or not, she is just another character in the community.
There were times that Susan was taking a break from being Peter, when one of the neighbours would call around for some reason. I would be sent out to distract them while Susan retreated and Peter had a chance to emerge. The thing is that I don't really think they would have worried either way.
After 10 happy years of marriage, I have come to realize that wearing women's clothing is such a minor issue. Especially, when you compare this with some of the other things a partner can do that would strain a relationship, such as drinking too much, getting violent or gambling. I honestly feel blessed to have both a male and female best friend.
https://www.youtube.com/watch?v=NPlZumKyl9M
The Feed's Andy Park (@Andy_Park) gains unprecedented access to Australia's oldest cross-dressing club in a feature report tonight on SBS 2's news and current affairs program The Feed, at 7.30pm

To find out more about Susan and other cross-dresser's stories visit SBS. 

Do you know anyone who is a cross-dresser? Did you find that difficult to accept? 
FROM OUR NETWORK