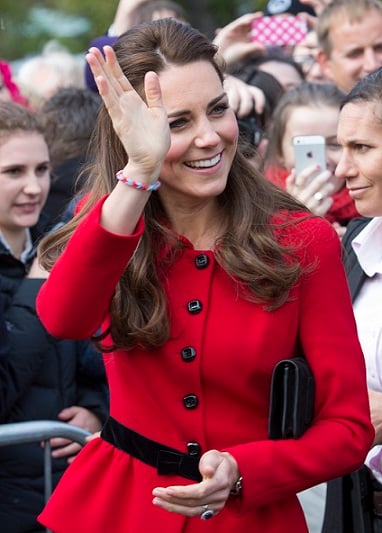 All eyes will be on Kate and Wills this week as Prince George turns one. But what's it really like being a royal mum? A dedicated royal-watcher tells…
Her Majesty Queen Elizabeth II once said, "Being a mum – the only job that matters".
But for HRH, who came to the throne at 25, she has always had to be royal first and mum second. Kate, not born into royalty and still two generations away from the throne, is able to focus motherhood in a way her granny-in-law never could.
In her  year of motherhood, the ever-professional Duchess of Cambridge has been scrutinised in ways that would terrify most mere mortals. And as a writer for a royal blog, I've been more vigilant than most when it comes to Kate's parenting style.  So here are five things you didn't know about mothering, royal-style.
1. Kate looks for parenting advice on the internet.
Yes, even the royals use the web to look for parenting advice. Kate's shared that she and her friends google things like breastfeeding, first teeth, colic remedies, etc.
2. She's a big believer in bonding.
Even though Kate and Wills are extremely busy, they know that bonding with your child is one of the most important things in the world. Princess Diana was the first one to break the royal tradition and breastfeed her babies. Diana also insisted that her children spent as much time as possible with her, fighting against the royal tradition of the baby living in the nursery with a nanny. Diana wanted her boys to have as "normal" childhood as possible and was even often spotted taking them to McDonalds.
It's a far cry from the generation before, as Prince Charles recalls that even when his mum came back from a long Commonwealth tour, she would not hug him, but rather allowed him to kiss her hand.
3. She keeps it real.
Kate and William will undoubtedly go further than Diana was able to in giving George a "normal" upbringing. The couple adored the time they spent living in a cottage in Anglesey, Wales. There, Kate cooked dinner and went shopping at the supermarket. It's a lifestyle she's keen to repeat in their new homes at Kensington Palace and at their 10-bedroom country home of Anmer Hall in Norfolk.
A year after Prince George was born we can see that Kate involves him in plenty of "ordinary" activities – being babysat by his grandparents, play dates with her best friends' kids, family dinners and many hugs and kisses showing affection. And, by all reports, Prince William is a hands-on dad who changes nappies regularly.
4. She really wanted to lose her "baby weight".
Having a very young baby is challenging, even for a royal mum. And when you're due back in front of the camera in no time, the pressure to look slim is intense. Apparently, Kate credits breastfeeding with helping her lose weight quickly after George's birth, but she didn't stop there.
Kate's schedule meant she only breastfed for a few months and now she keeps in shape with regular workouts and her dedication to swimming, cycling, tennis and walking. When she has the time to hit the gym she loves toning her back muscles and arms. She also loves yoga exercises and follows a low-carb diet.