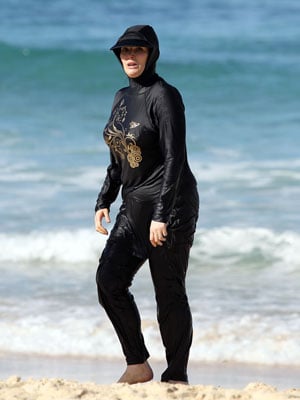 It's fair to say that growing up on the Gold Coast in Queensland, I spent A LOT of time in the sun – far more than was healthy or wise.
My 40-year-old skin is a testament to this. I can only imagine now how much better it might look had I not literally cooked myself like a well-basted Sunday roast as I tried to impress boys with my kick-arse tan.
LIKE Debrief Daily on Facebook. 
I was never warned to 'slip slop slap'. In fact, my mother actively encouraged me to pour BABY OIL on myself so I'd tan quicker. I don't blame her – those were the days when our parents smoked cigarettes as they sat on the couch next to us watching TV.
Back then, we'd have actual competitions to see who could peel the largest piece of intact skin off another person's back after a heavy duty dose of sunburn.
But it wasn't just the sun safety message (or lack thereof) that was different. The whole beach experience was different. Very different. In all sorts of ways.
1. What we used to wear.
If the bikini bottoms didn't go over our hip bones then we really weren't trying hard enough. Our costumes (and I do mean costumes) had to be bright, they had be easily dislodged when dumped by a wave and most importantly of all, they had to enable a good tan line. There was little regard to covering ourselves from the sun's UV rays.
What we wear now.
More like what don't we wear? When our kids head down to the beach in 2015, we have them in head-to-toe rashies with nothing exposed, slathered in sunscreen. This generation will never know the pain that is being so sunburned they can't be hugged goodnight, roll over in their sleep or have a sheet touch any part of their scorched skin.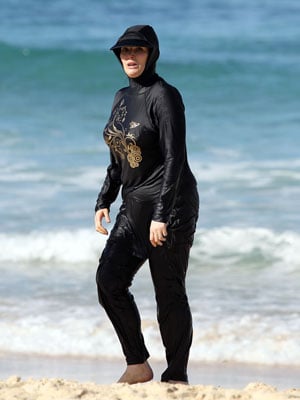 2. The sun protection we used back then.
Not only did we NOT wear SPF sunscreen of any kind, often we could be found baking ourselves in some kind of oil. I dare you to smell a bottle of Reef Oil (below) without being hurtled back to your misspent youth. Not only did my mother fail to mention sun protection, she actively encouraged me to use olive oil and baby oil so that I could tan 'faster'. Yep, she gave me instructions on how to cook myself like a roast chicken in the Australian sun. She'd then compliment me on my golden skin.