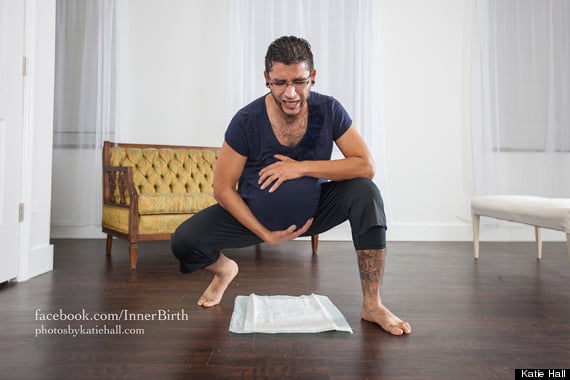 Men have really made an effort to experience pregnancy in 2013.
Some hooked themselves up to contraction simulators, with hilarious results; others experienced the thrill of their babies kicking inside the womb using pregnancy belts.
Now, a group of dads have banded together to re-enact their partners' most memorable pregnancy and birthing scenes. Organised by InnerBirth Midwifery, the 2013 HomeBirth Dads calendar stars a number of volunteers holding swollen bellies, practising pregnancy exercises and getting ready to step into the home-birthing tub.
Midwife Kimberly McGuinness-Rook told the Huffington Post the idea for the calendar came about as a joke, but evolved into a fun, effective project. "All of the dads we work with are such supportive partners and passionate fathers. There wasn't a doubt in my mind that we couldn't get enough volunteers to pull this off," she said.
The best part? It's all for a good cause – proceeds from the calendar will be donated to the Greater Racine Collaborative for Healthy Birth Outcomes, an organisation aiming to reducing the African American infant mortality rate in the US town of Racine, Wisconsin. The calendar is on sale here.