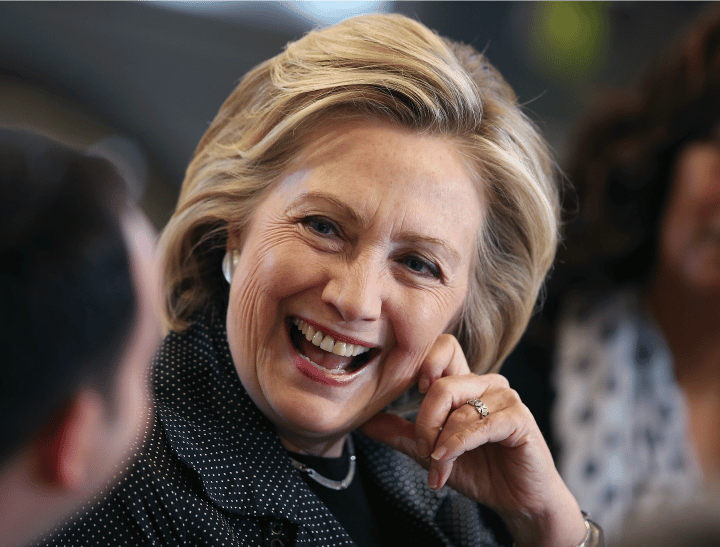 Presidential candidate Hillary Clinton has made a pledge seldom heard on Capitol Hill.
Speaking at the South Carolina Democratic Women's Council, former US Secretary of State – now 67 – vowed she would not let herself go grey if elected. And proved she has a sense of humour as she did it.
"Just pull up the images in your head: All our presidents come into office looking so vigorous," she told the crowd. "Think about what they look like on Inauguration Day. And then we watch them – they grow greyer and greyer. And by the time they leave, they are as white as the building they live in."
"You're not going to see me turn white in the White House," she said.
"I'm aware I might not be the youngest candidate in this race, but I have one big advantage: I've been colouring my hair for years."
If elected, Clinton will become the second oldest president in US history after Ronald Reagan: she will turn 69 when she is sworn in.
Her blonde bob hair caused media uproar in the past. In 2012, as Secretary of State, Clinton made headlines for wearing her hair in a scrunchie, and wearing only lipstick as opposed to a full face of makeup.
"If I want to wear my glasses, I'm wearing my glasses," she told CNN at the time. "If I want to wear my hair back I'm pulling my hair back. You know at some point, it's just not something that deserves a lot of time and attention."
And we're guessing she feels the same way about colouring her hair.
Whatever you do Hillary, we think you are awesome.
Take a look at key moments in Hillary's life: