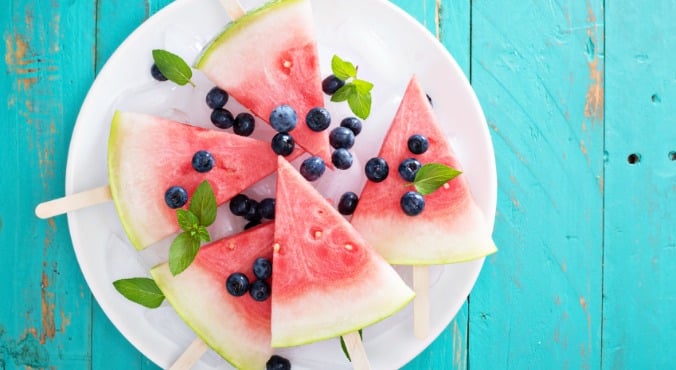 Image: iStock. 
With plenty of big nights and skipped training sessions to make up over the the summer months, you may be tempted to seek out an expensive 'detox' program that promises the world when it comes to weight loss, and leaves you eating very little.
Before you go and waste your hard earned dollars on an expensive mix of pills and potions, you will be pleased to hear that it is easy to give your diet an overhaul, simply by focusing on nutrient rich foods thatwill help to get your body fighting fit in no time. Here are some of the best foods to reboot your body at this time of year, and foods you are likely to already have in your fridge at home.
Blueberries.
Any berries are fab but blueberries in particular are packed full of antioxidants, Vitamin C, fibre whilst also being relatively low in calories and carbohydrates. Enjoy as a light snack in between meals; as a fibre boost to smoothies and juices or as a sweet treat after dinner with a little Greek yoghurt and seeds or nuts.
Greek yoghurt.
Greek yoghurt not only contains much less sugar than the average serve of store bought yoghurt but it is much higher in protein which helps to keep your blood glucose levels regulated throughout the day. An added benefit will come if you choose a variety of Greek yoghurt which also contains probiotics, the live bacteria that will help to feed the good bacteria in the gut and is thought to have a powerful role in optimal immune functioning long term.
Enjoy with some oats for breakfast, as a filling snack, as a light dessert option, add to smoothies and protein shakes or even as a dressing option with vegetables for a daily calcium boost. A simple, delicious green smoothie recipe. (Post continues after video.)  
Watermelon.
Often slammed for being relatively high in sugar, what is important to remember is that watermelon as the name suggests is 92% water, and contains just 45 calories per 1 cup serve, making it a low calorie, nutrient rich food despite the fact it contains some natural fruit sugar.