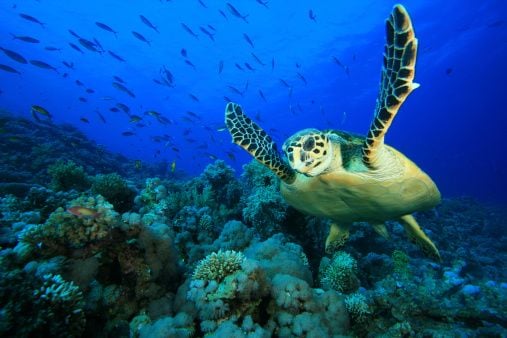 The Great Barrier Reef is home to six different species of sea turtle. The survival of these turtles is threatened by water pollution and the direct impact of dredging.
Last year, the Turtle Island Restoration Network warned that coastal development in Queensland could push several species of these turtles towards extinction.
Extinction. Several species of these beautiful sea creatures would be gone forever. And yet this week, the Federal Environment Minister, Greg Hunt, gave the go ahead to four big industrial projects bordering the Great Barrier Reef.
The Federal Government has decided to allow three million cubic metres of rock and sediment, to be dredged and dumped in World Heritage waters.
The state government has welcomed the move, saying it will create thousands of jobs. Environmentalists, however, are deeply concerned. They believe it will put the World Heritage listing of the reef at risk – not to mention damage the natural ecosystems and habitats of the creatures that live there.
It's not very hard to see why people might be concerned. The projects include a series of ports that will see more than 3 million cubic metres of the seabed dredged and dumped – within the Great Barrier Reef marine park area. This is in order to move coal – which is turn is likely to be responsible for the release of an estimated 3.7 billion tones of carbon dioxide into the atmosphere.