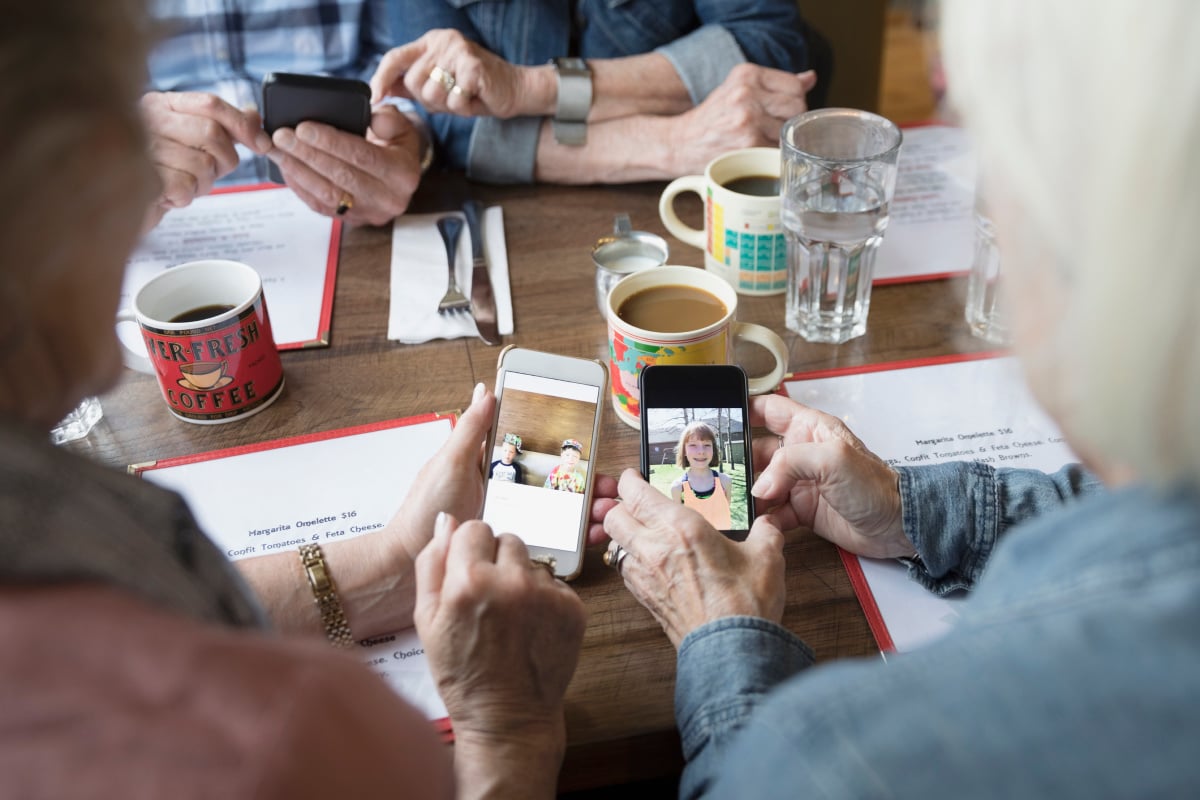 They say it takes a village to raise a child, and for many lucky families, that includes the involvement of wise, experienced, and loving grandparents.
But what happens when the grandies go rogue when they are unsupervised with the kids? They can buy unnecessary, expensive toys, allow the kids to stock up on sugary treats, and indulge them in enough screen time to earn them the title of Best Grandparent Ever.
Side note… Julia Roberts, Michelle Obama and many other celebrities share their thoughts on parenting. Post continues below.

Fair enough. That's part of grandparenting, right?
But recently, another problem has been emerging: Grandsharenting. It's the term used to describe when grandparents post pictures of their grandkids on social media, often without anyone's consent.
It sounds innocent enough, and a move generally motivated by love and pride, which is why it's not an issue to some. But it is problematic in many families, especially in the lead up to Christmas.
Some parents feel grandparents don't have a right to share photos of their kids without asking – that they are not entitled to do so – and that their views on privacy and control over their child's image are not respected.
We spoke to a number of parents about the issues grandsharenting has caused in their homes. All names have been changed by request, because no one wants to publicly hurt well-intentioned grandparents.
Bianca – ultrasound photo
"I have issues with this with my mum. She shared a photo of my 12-week ultrasound on Facebook before I had even told my brothers the news.
"She also posted my daughter's passport photo on Facebook which made me very concerned for identity theft. I am very private and rarely share any photos of my daughter as I worry that they are permanent.
"It affected our relationship because I stopped sending her any photos of my daughter as I didn't want them on her Facebook which hurt her feelings. Her profile is public and I do not know most of the friends she has.
"Once I was in a cafe and someone approached me saying they worked with my mum and recognised my daughter. Now I just send photos and say with each one… no Facebook, please.
"Her profile picture is of my daughter. I feel guilty as I know she is proud and adores my daughter so I don't want to take that away from her."
Chelsea – baby bump photo
"When I was eight months pregnant, I shared a bump selfie photo on my Facebook counting down the weeks. Scrolling through Facebook later that day, I was confused to see my photo in my feed.