As a keen baker I'm always fairly sceptical about baking a cake from a packet. It kind of feels like cheating.
Though when my turn to bake the monthly work cake rolled around I kinda freaked out. Some of the team don't eat dairy and others can't have gluten. What the hell am I supposed to cook?
Not knowing exactly what's in all my baking ingredients in the pantry, I was hesitant to make anything from scratch. Instead I opted for this nifty little pack from Well & Good.
The box says it's dairy and gluten free, and it can even be made vegan with a quick tweak, meaning everyone at work can eat it (even Tina who is fasting for Greek Easter. Hi Tina!).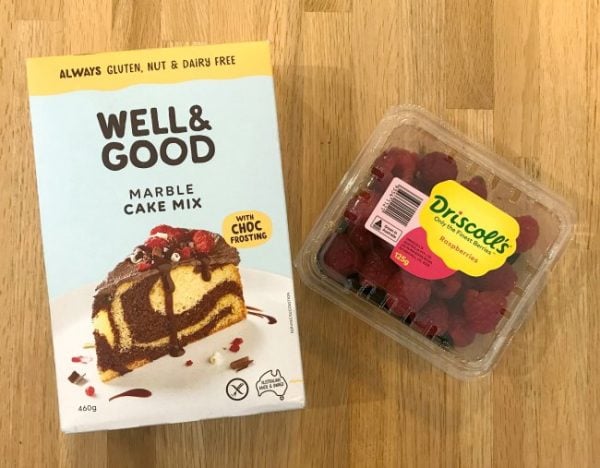 The method is all laid out clearly on the back of the pack and it lets you know what you'll need in addition to the sachets in the box. Because I was following the vegan instructions for me it was a few tablespoons of chia seeds, good old margarine (which is made from vegetable oil) and some tap water.
I decided to make two cakes and layered them so that everyone at work would maybe assume I made it from scratch. Shhhh.
I got started by pre-heating my oven and greased and lined a spring form baking tin, to make turning the cake out much easier.
In other very important baking news, The Crown has just solved a major issue about scones and now we finally know whether the cream or the jam goes on first. Post continues after audio.

Then in a large bowl I emptied the packs of pre-labelled cake mix, added in my pre-soaked chia seeds (to substitute for eggs) and some margarine. Then I set my mix master to high and mixed that batter up for a few minutes.
Next I made the chocolate part of the marble cake, which meant I literally just had to add another little sachet with some boiling water and then gave it a stir.
Once the yellow batter cake mix was a smooth, thick consistency I poured it into the baking tin. To make sure mine was evenly spread I gave it a few good bangs on the kitchen bench. This also allows for any air bubbles to come to the surface.
Now the fun bit: making the marble.
The recipe said to pour the runny chocolate mix over the cake and then get a fork and swirl. This made me a little nervous so instead of a fork I used a skewer to better to control my swirls.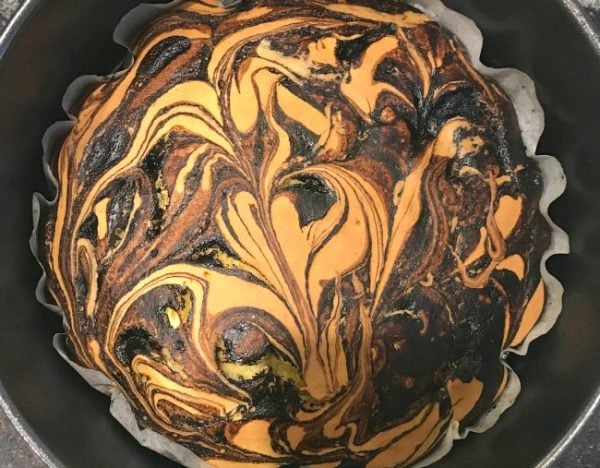 Once I was happy with how it looked I popped it in the oven for about half an hour.
While it was baking I set off to make the icing, which was super easy. I emptied another sachet, added margarine and mixed it together. It was smooth, glossy and chocolatey and there was plenty of it, too.
To check the cake was done I put a skewer in the centre on a diagonal and when it came out clear, I knew it was done (thanks for the baking tips Mum!)
While the first cake cooled I made the second one. Once they were both cool I slapped the icing all over the top (and some in the middle), then added my favourite berries.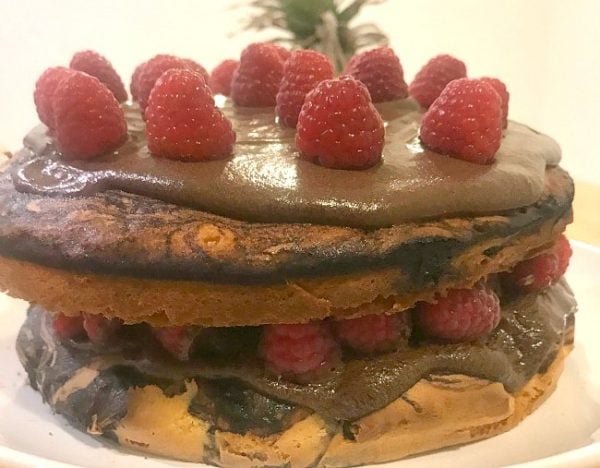 The fab Well & Good Nut & Dairy Free Marble Cake Mix  is only $9.50 for a pack of two on Mamamia Shopping. Happy baking!
This episode of Mamamia Out Loud: Everyone Has A Get Off Scream, Mia, Rachel and Jessie talk about the viral sex column about masturbating after sex, Swedish death cleaning and just not being a morning person. It's a thing.

Shout out to all Dads.
Here at Mamamia we are always looking for ways to make Mamamia even better. Dads, we need you to help us do that by filling out this quick 15 min survey for us. Click the button below for your say.