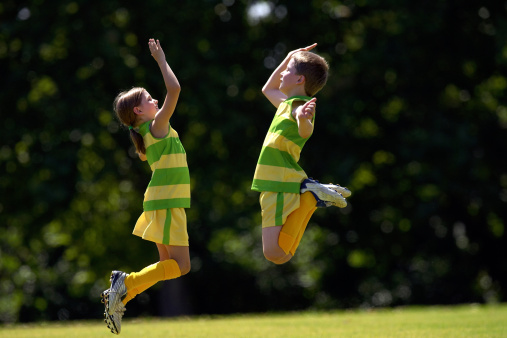 By SHANKARI CHANDRAN
One day soon, the iPad and other screen-based devices may replace all forms of play previously known to mankind.
Now I am not completely against screen-based devices for children. There are times when I am outsmarted or simply ground-down by my four offspring, and 'screen-time' as it is now known in modern parenting parlance, is my only lifeline. I use it as a reward, a threat, an education tool and a distraction*. There are times when that screen is my best friend (God bless you Steve Jobs).
Just as an FYI, this post is sponsored by Springfree. But all opinions expressed by the author are 100% authentic and written in their own words.
However, in our house, screen-time is also in danger of becoming the default play (and exercise) option for us. The challenge for me is finding a way to nurture active kids who love going outdoors, rather than simply playing Wii Sports. Here are some of our attempts:
1. The International Chandran Handball Federation (ICHF)
Every generation has its thing. When I was nine, my girlfriends and I played elastics. I am super-uncoordinated so this game always ended painfully for me.
Handball is The Game of the Moment – it has its own rules, language ("Intoes!!") and cult of celebrity. Everybody wants to eat lunch with the reigning champion at my kids' school. It's so cool it has its own international federation (not to be outdone, I created one of my own). Line disputes require impartial adjudication and rights of appeal – bad line calls are never forgotten. At our local primary school and in our back yard, handball is a very serious sport that masquerades as a really fun game.