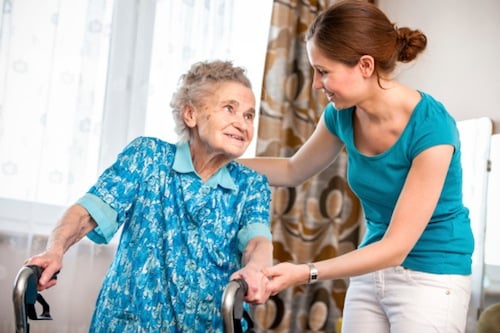 1. Aged care pay rise axed
Thousands of aged care workers will miss out on an expected pay rise after the Federal Government dumped a $1.2 billion fund set up by Labor.
The Workforce Compact would have given workers a 1 per cent pay rise on top of award increases.
The Government halted the scheme in September and yesterday dumped the fund altogether.
It comes days after a $300 million fund to give pay rises to childcare workers was axed.
See more about that here. 

2. Tennis coach body found
The body of missing Melbourne tennis coach Paul Arber was found in a New Zealand river yesterday. Mr Arber was in Hamilton coaching young tennis players who competed in a Christmas Tournament when he went missing.

3. Reece McKee search ends
The quest for love from New Zealander Reece McKee has come to an end.
His online search for the girl he danced with last New Years Eve in Hong Kong went viral and the mystery girl 'Katie' was found in the US. But it didn't have the happy ending he had wished for. For more read this post here. " Reece McKee's search ends"
4. Consumer watchdog investigates cartel
The ACCC has filed civil proceedings in the Sydney Federal Court, against Colgate, Cussons and Unilever.
It alleges the companies were involved in cartel activity arranging to simultaneously begin supplying ultra concentrate laundry detergent to major supermarkets and cease the supply of standard concentrated laundry detergents.

5. Sexual harassment payout
The highest ever damages award for sexual harassment has been given to a Chartered accountant in Melbourne after a judge found a male co-worker had unwanted sex with her after a work function.
Jemma Ewin's will be awarded almost $500,000. Her co-worker accountant Claudio Vergara was accused of rape, arrested but never charged, Federal Justice Mordecai Bromberg found however he engaged in unwelcome sexual intercourse with Ms Ewin.
6. Labor accused of being hypocrites
Liberal MP Kelly O'Dwyer has accused Labor of being "hypocrites" on the issue of women in power.
There have been suggestions that Labor's attacks on Ms Bishop have gone beyond anything the Coalition while in opposition, aimed at her predecessors. Ms Dwyer has suggested the attacks are motivated by gender.
Labor supporters have also increased attacks on the Prime Minister's chief of staff, Peta Credlin, focusing on her gender and unelected status.
 7. Mandela signer speaks out
The man accused of faking sign interpretation at Nelson Mandela's memorial service has told AP that he hallucinated that angels were entering the stadium, has schizophrenia and has been violent in the past. Mamamia reported on this here.
He added that he was once hospitalised in a mental health facility for more than one year.

 8. All he wants for Christmas is an arm
A six-year old boy in the US has told Santa that all he wants for Christmas is an X-box and a prosthetic arm to help him play it.
The US media are reporting that a family friend of the boy started an online campaign to raise enough money to buy Christopher Kiezek  a prosthetic arm.
His mother said he just wants to look like all the other little boys his age.
9. Jill Meagher's father
The father of murdered woman Jill Meagher has revealed he has an incurable brain condition, with the family now also threatened financially with a $270,000 penalty if they do not obey a US court order and attend a hearing in Ireland next week in connection with a civil lawsuit.
Jill Meagher's father George McKeon told Channel 10 news the family was facing financial ruin.
10. Canada scraps postie
Canada's postal service will scrap door-to-door mail delivery over the next five years and cut as many as 8000 jobs.
Canada Post will stop delivering mail directly to individual households and Canadians will instead have to collect their mail from community mailboxes that are to be set up in neighbourhoods nationwide.
11. Another forced caesarean
A judge in the UK has ruled that an expectant mother can be forced to have an emergency caesarean.
The 36-year-old woman, a paranoid schizophrenic, has been resisting the possible treatment claiming that voices in her head are telling her not co-operate.
The case has echoes of the Italian woman forced to have her baby delivered by c-section.
In brief:
The WA Greens have introduced a same-sex marriage bill to the WA Parliament.
The global death toll from cancer rose to 8.2 million in 2012 with sharp rises in breast cancer according to the World Health Organization.
What news are you talking about today?