After their whirlwind romance, Olympian Sam Loch has given fans an, erm, unconventional first look at the ring he proposed with to fiancee Frances Abbott.
There were no professionally posed hand shots or selfies to be seen – instead, Abbott pokes her tongue out and gives the camera the finger. A new engagement trend, perhaps?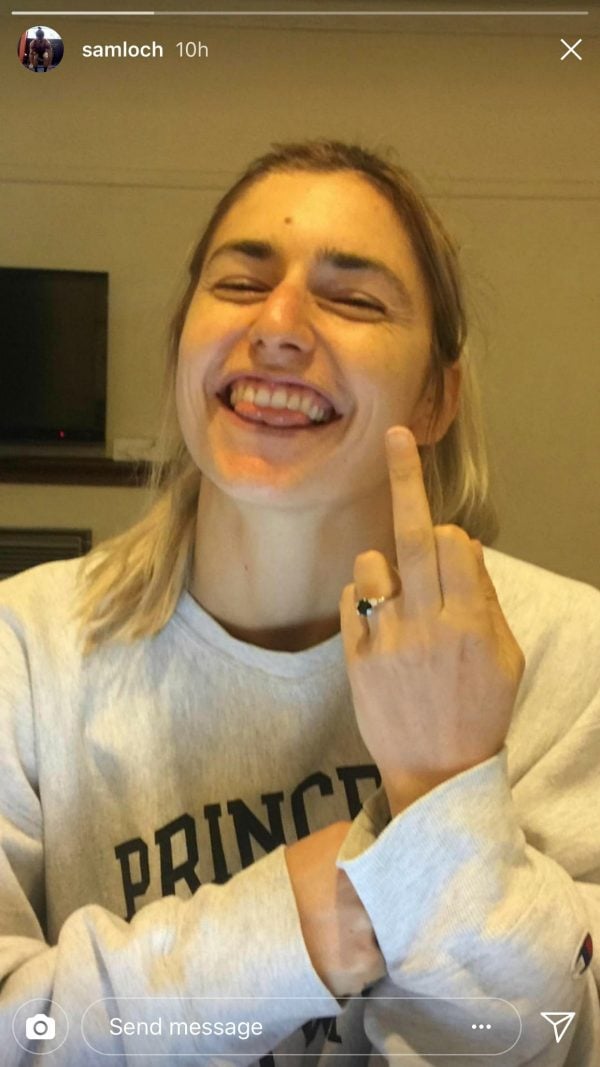 It's the first time we've seen the 26 year-old's engagement ring, which looks to feature a dark gemstone or jewel in place of a traditional diamond.
The pair met in mid-October after a mutual friend suggested Abbott message him, thinking they'd get on.
"Next thing he is standing in my lobby with a coffee. As soon as I met him, I knew it was something special," she told Stellar Magazine last week.
The pair became engaged two weeks later, with Loch standing by the kitchen door holding a bottle of champagne.
"He said, 'Why aren't you asking me why I'm holding champagne?' So I said, 'OK... why are you holding champagne?' He said, 'Well, I thought we could drink it after I asked you to marry me'," she said.
They waited two weeks to announce their engagement and have since moved in together.
Abbott, who is the daughter of former Prime Minister Tony Abbott, says that while her parents like Loch, the engagement did come as a surprise to them.
"Mum was like, 'Frances, you are quite impulsive'. My family just want what's best for me, as any family would with their daughter. They are cautious because of the time, but they know me," she said.