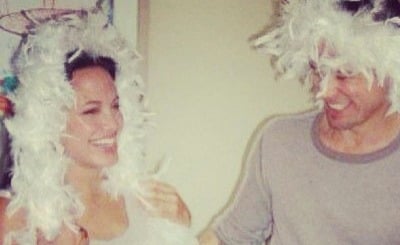 The first photos of the wedding of the year.
On the 23rd of August, Brad Pitt and Angelina Jolie had the most secretive celebrity wedding at the little chapel of Château Miraval.
Now, their wedding photos are on the cover of PEOPLE and Hello! magazine. They will be for sale in Australia in New Idea magazine on Thursday.
Angelina wore quite the unique dress decorated with her children's artwork. According to PEOPLE, Luigi Massi, the master tailor at Atelier Versace, sewed the children's handmade drawings into the dress and veil.
Angelina says, "Luigi is like family to me and I couldn't imagine anyone else making this dress. He knows and cares for the children and it was great fun putting it together."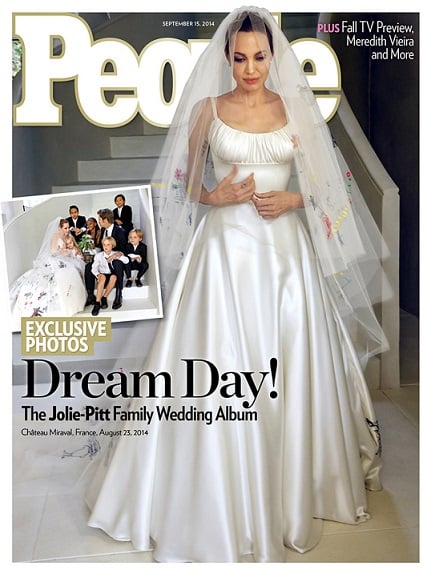 Brad wore a suit from his wardrobe (and because he forgot his tie, he had to borrow one of his sons).
As for their 6 children, each were stylishly dressed and had a very important part of the intimate wedding.
Maddox, 13, and Pax, 10, walked their mum down the aisle wearing black suits.
Zahara, 9, and Vivienne, 6, were the cutest flower girls ever with Zahara wearing a dress designed by Adama Kebe (a family friend) and Vivienne just wore a white dress from her closet. Oh, and they threw petals they collected from the garden.
Shiloh, 8, and Knox, 6, served as ring bearers with Shiloh wearing a black suit which included shorts and a top hat, and Knox wore a suit. Oh and Pax baked the wedding cake.
Brad and Angelina told Hello!, "It was important to us that the day was relaxed and full of laughter. It was such a special day to share with our children and a very happy time for our family."
As for the wedding rings, jeweller Robert Procop (who did Angelina's engagement ring) was in charge of the rings.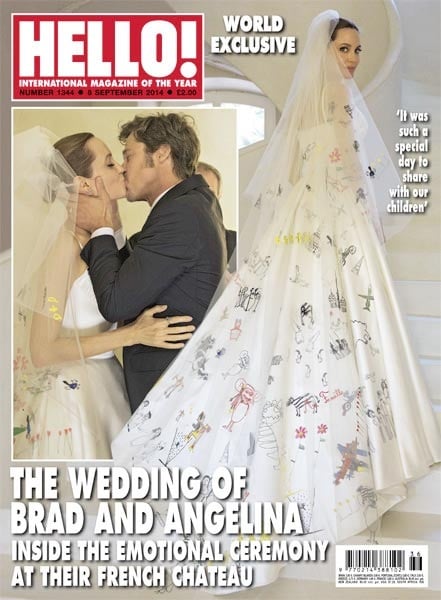 Congratulations to the beautiful couple.
And if you need some more Ang and Brad, CLICK THROUGH the gallery for pictures of them throughout time...