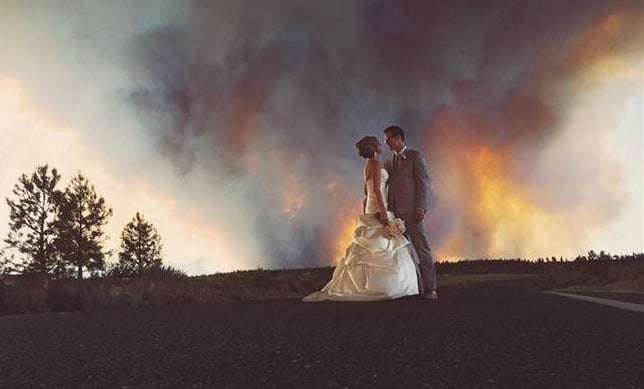 Your speedy update on all the day's stories, Wednesday, June 11 2014
1. Couple risk their lives for the 'Gone With The Wind' wedding shot.
April Hartley and Michael Wolber had their wedding ceremony at Rock Springs Ranch near the city of Bend in Oregon. Despite a raging bush fire (above). Just before the bride was about to walk down the aisle, the fire department showed up.
"It was like a movie. We saw a fire truck roll up with sirens blaring," Wolber told The Oregonian.
The firies ordered the wedding party to evacuate the area due to 2 bushfires approaching. Despite the wedding party being cooperative, the firies had a change of heart when they saw Hartely in tears and allowed the ceremony to continue. But only for 20 minutes.
"I've had a lot of surprises, being in ministry," wedding minister Liz Leavitt told The Oregonian. "But I have to say: I've never had this happen before."
After the "I do's" and just before leaving the area, wedding photographer Josh Newton took a photo of the newly weds with the fire raging in the backdrop. He then uploaded it to Facebook and it has gone viral.
2. There were "No injuries" on Baden-Clay's body, court hears.