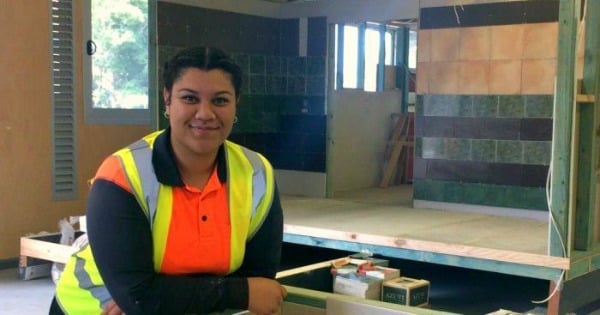 By Lindy Kerin.
Workshops aimed at teaching young women how to use tools are being offered around the country in a bid to break the gender imbalance.
A recent national report found women made up just 14.7 per cent of technicians and trade workers.
Supporting and Linking Tradeswomen (SALT) was set up in 2009 by painter and decorator Fi Shrewing to boost the number of female tradies.
"We're aiming to teach girls and women how to use tools," Ms Shrewing said.
"We actually run the world's only mobile workshop that's designed to teach women how to use tools, it's unique."
Ms Shrewing said while the national report showed women made up only a small percentage of trade jobs, things were changing.
"Even three years ago, if I'd had a 30-year-old woman come to me and say she wanted to change careers and go into the trades… I would have thought 'well this is going to be difficult' — now it's possible," she said.
"Things have shifted, attitudes are changing, people are seeing the sense of operating with a full working workforce, instead of just using half."
'Men don't own it, we can do what they do.'
Year 9 student Jade Simpson has been taking part in one of the SALT workshops in Bankstown, south-west of Sydney.
She said taking up a trade was something she had been thinking about.
"Men don't own it, we can do stuff… we can do what they can do," she said.
TJ said she wanted to follow the footsteps of her grandfather, who was a builder and would challenge her to help out him when she was growing up.
"I was raised by him, [I] just kind of followed him around a lot," the 17-year-old said.
"He always took me outside and whenever he was building he'd chuck me something, he'd be like put that together and I'd just do it and give it back to him."