We've rounded up all the latest stories from Australia and around the world – so you don't have to go searching.
1. Father traded ultrasound image to prove he was serious about making child porn.
A father has appeared before court on child porn charges after he was arrested following an exchange online where he sent an FBI operative ultrasound images of his unborn daughter saying he was planning on abusing her when she was born.
A Brisbane court has heard the 25-year-old man was arrested in January last year by AFP officers after a tip off from the FBI.
The man sent an ultrasound photo and 12 images of child pornography to an FBI operative posing as a child porn enthusiast.
The man has pleaded guilty in the Brisbane District Court to possessing child exploitation material and using a carriage service to access child pornography material reports the ABC.
Commonwealth prosecutor Aimee Sanderson said the man traded the image "to prove" to the FBI operative that he "was serious about trading child pornography material."
"He said that he intended to make his own child pornography material with his daughter and will trade those images."
The court heard the man was found in possession of 6,435 images and videos of child exploitation material across three devices.
Many of the children were showing signs of distress and pain.
"Quite frankly, I think it's the worst case of child exploitation material I've seen," Judge David Reid said.
The man also pleaded guilty to trading images between himself and others, as well as accessing child pornography.
Kid's Helpline: 1800 55 1800. DV and Sexual Abuse hotline 27/4
2. Oliver Curtis finds out his fate today.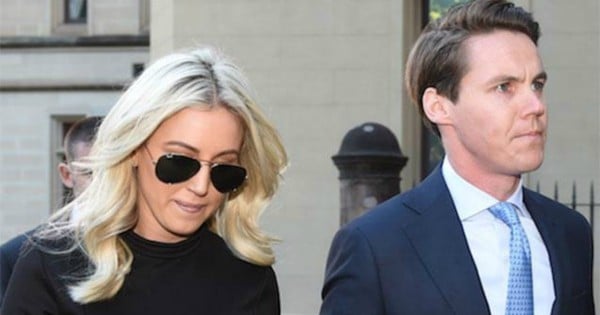 Roxy Jacenko and Oliver Curtis. Via Twitter
Oliver Curtis, the husband of Roxy Jacenko will find out his fate today when the Supreme Court sentences him for insider trading.
Curtis faces a maximum sentence of five-years in jail and a fine of up to $220,000 after he was found guilty by a jury of conspiracy to commit insider trading in relation to a $1.4 million scam with his former best friend John Hartman.
Hartman pleaded guilty to insider trading in 2010 and served 15 months in prison.
If jailed his imprisonment will cost taxpayers $100,000 per annum.
3. Disney to look into signage around its resorts after two-year-old snatched by alligator.
Disney has said it will "thoroughly review" their sign issue in the future after a two-year-old boy, Lane Graves, was taken by an alligator at an Orlando resort.
In a statement from Disney World Resort President George A. Kalogridis, the company said it was "doing what we can" to help the family.
Searchers removed five of the reptiles from the water while looking for Lane who was attacked at the water's edge Tuesday night.
4. Parents need to be telling 8-year-olds about puberty as kids are reaching it earlier.
40 per cent of girls and 20 per cent of boys are already experiencing some signs of puberty from the age of 8. Via IStock.
Data released from the Australian Institute of Family Studies has shown that our children are reaching puberty earlier, meaning parents need to have "the talk" with their daughters and sons before they are eight years old.
Researchers found that 40 per cent of girls and 20 per cent of boys are already experiencing some signs of puberty from the age of eight.
By the age of ten to 11, 52 per cent of boys and 73 per cent of girls are showing definite signs, such as body hair, skin changes and adult body odour reports The Herald Sun.
Researchers from the Australian Institute of Family Studies have obtained a national snapshot of puberty that shows both boys and girls are entering puberty younger than ever, and that girls generally start a year earlier than boys.
AIFS Associate Professor Dr Ben Edwards told News Limited the data would be useful for parents.
"Parents are often reticent about having 'the chat' but this is an issue parents need to look out for from grade three or four onwards," he said.
5. PM urges unity with Muslim community.
The Prime Minister, Malcolm Turnbull has spoken of "one Australian family", urging Australians to be unified in the face of terror attacks such as the Orlando massacre.
At a Ramadan gathering at Kirribilli House he said that the broader Muslim community should not be blamed for the acts of minority extremists.
Mr Turnbull dined with high profile Muslims such as Waleed Aly, Dr Susan Carland, Hass Dellal from SBS, AFL footballer Bachar Houli from Richmond FC as well as Islamic leaders.
News Limited writes that Sheik Shady Al-Suleiman, an Islamic preacher who once called AIDS a divine punishment for gays and for God to "prepare us for jihad was among the guests.
The PM said "The aim of extremists, including those committing violence through a warped and nihilist interpretation of religion is to divide us and to turn our citizens against each other - but we will not let them win," Mr Turnbull said.
"Acts of terror like Sunday's massacre in Orlando are perpetrated to divide us along lines of race, religion, sect and sexuality - but that kind of hatred and division must not prevail.
"We must stand together like we do tonight as one Australian family united against terrorism, racism, discrimination and violence."
6. Adelaide mother punished children by handcuffing them naked together.
An Adelaide grandmother has spoken out after graphic images of her grandchildren being "punished" came to light.
Seven News reports that a terrified five-year-old boy had his wrists and feet handcuffed together while he was naked and in his mother's care.
The child's grandmother said she felt "helpless" about what to do about the abuse and neglect her three grandchildren suffer.
She spoke out after she felt Families SA did not step in.
The grandmother told Seven News police were also notified of the alleged abuse and did a welfare check, but it was done at at 1am when two of the three children were asleep.
In another image the same little boy and his older sister are handcuffed together in a lounge room setting.
"I told them if they were naughty, this is what I'll be doing," the mother writes as a caption on one of the shocking images.
Families SA told Seven News an investigation is now underway.
7. British MP shot and killed by man yelling "Britain First".
Jo Cox, a Labour MP, who devoted her life to "justice and human rights." Via Facebook.
A female British MP, and mother of two has been shot and stabbed by a man in her constituency.
Jo Cox, a Labour MP, who devoted her life to "justice and human rights" was attacked by the man in her constituency. The MP was shot as she left the Birstall Library, near Leeds.
The mother-of-two was reportedly shot in the face three times and attacked with a knife.
Cox had been vocal about campaigning for the No vote in the upcoming Brexit vote.
It is now just one week from the referendum when the British people will decide whether Britain should leave the European Union.
It is reported that the suspect shouted "Britain first" before the shooting and during the arrest.
The right wing, anti-immigrant and anti-Islam group Britain First denied any link to the shooting on their website.
Police say they have a 52-year-old man in custody, named as local man Tommy Mair.
For more go here.
8. Australia's four large sporting codes bid to stop violence against women.
Four of Australia's largest sporting codes have joined forces with Our Watch to stop violence against women.
The Australian Football League, Australian Rugby Union, Netball Australia and National Rugby League will today announce they will be working side-by-side with group, Our Watch — a national initiative to prevent violence against women and children.
News Limited reports that the agreement will spend the next two years implementing and evaluating interventions in sport that work to stop violence against women. From ending sexist jokes and stopping anything that trivialises violence against women.
Our Watch chief executive officer Mary Barry said:
The sporting community has a huge opportunity to play an important role in preventing violence against women and their children,'' she said.
"Sporting codes, clubs and organisations bring together large numbers of people of all ages and backgrounds and are a ready-made environment to promote women's participation and opportunities to eliminate gender-based discrimination and violence-supportive attitudes.
"I commend the AFL, NRL, ARU and Netball Australia for using their collective influence to assist in preventing the high rates of violence against women in Australia."
9. Pakistani religious leader defends telling men it is acceptable to 'beat their wives lightly' for refusing sex.
The head of Pakistan's Council of Islamic Ideology (CII) has defended his claims that it is acceptable for a man to beat his wife - and showing how it should be done.
Last month, the CII submitted a draft women's rights bill which suggested it was acceptable for a husband to "lightly beat" his wife for reasons such as refusing sex, ignoring demands and not bathing.
Maulana Muhammed Khan Sherani, the head of the Council told the BBC it was in accordance with Islam.
"These recommendations are according to the Quran and Sunnah, the prophet's teachings. No one can dispute that," he said.
"When we draft a bill concerning women we have to consider all possible situations.
"If a woman does not fulfil her responsibilities in marriage first you advise her, if that doesn't work, then you consult her relatives. If that doesn't work then you desert her in bed. If all of this doesn't work, then light beating is allowed.
"What is the solution to this issue? If a woman doesn't respond to advice, doesn't listen to her relatives, after you've used all the options, what should be done?"
The draft bill is a response to a new law – the women's protection act – passed by the Punjab assembly earlier this year, which gives women legal protection from domestic, psychological and sexual violence.
The CII, which advises the government on the compatibility of laws with Islam, declared the Parliament's new act as "un-Islamic."
According to the draft bill: "A husband should be allowed to lightly beat his wife if she defies his commands and refuses to dress up as per his desires; turns down demand of intercourse without any religious excuse or does not take bath after intercourse or menstrual periods."
Mr Sheerani told The Express Tribune what he meant by the term "light beating". "Hit her with light things like handkerchief, a hat or a turban, but do not hit her on the face or private parts.
"The beating should not cause any kind of physical damage or even scratches. Resort to light stuff, nothing serious," he explained.
Do you have a story to share with Mamamia? Email us [email protected]