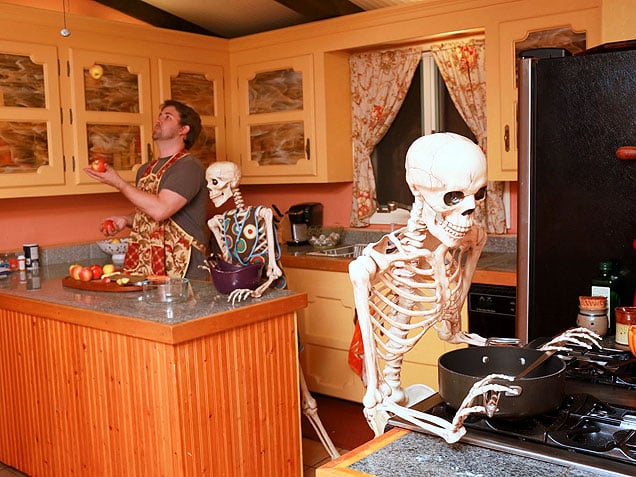 J.W. Ocker, author, webmaster of Oddest Things I've Seen and Halloween enthusiast (he and his family celebrate for a month and a half!), posted photos of his newest family members – plastic skeletons called "T" and "C" – and their normal, everyday lives.
We just had to wonder what kind of lovely life he and his family must live…
Babysitting

The Nightmare Before Christmas is their favourite film to watch together, for obvious reasons. Because everyone loves Christmas, duh!
Eating Breakfast

They get a kick out of ironic cereal.
Dinner time
The upside to being a skeleton chef? You can't get burned.
Running errands

A skeleton driving is a much safer alternative. We think?
Hanging decorations

Don't be deceived. The skeleton in the middle isn't decor – that's just sweet 'ol Carl.
Movie night

They try to avoid thrillers like Night of the Living Dead and The Skeleton Key.
Household chores

Without muscle mass we're not sure how Carl can mow the lawn, but we'll ask the questions after the yard work is done.
Time to relax

Without the floatie there could be disastrous consequences.
Trick-or-Treating

Because sheet-cut-out-like-a-ghost seemed too cliche.