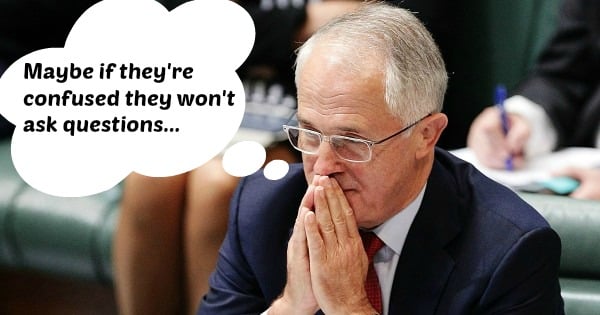 As far as 24 hour periods go, yesterday was a big one in the world of Australian politics.
If your head is spinning with too many acronyms and you thought 'double dissolution' was some sort of chemical reaction from year 9 science class, then don't panic.
We've got you covered with this helpful explainer, complete with childhood board game references to help everyone out.
Let's start with the basics. What happened yesterday?
You might have see on TV that the Senate went a little bit nutty last week. The Senators worked all night long (one of them even wore his PJs into the chamber) and there were discussions about farts and colonoscopies (but actually, there were). Part of the reason the Senate kept debating until the sun came up is because it was the end of a sitting period. This was it: their last chance to pass any new laws until Parliament returned in mid May.
Think of it like this: The Pictionary timer is fast running out of sand and you're not remotely close to the answer. The opposing team are yelling distracting comments from the sidelines, you and your partner are getting desperate. You're so anxious that there's no longer very much actual drawing going on – just a lot of urgent, pointed stabbing of the paper. That was the Australian Senate's collective state of mind.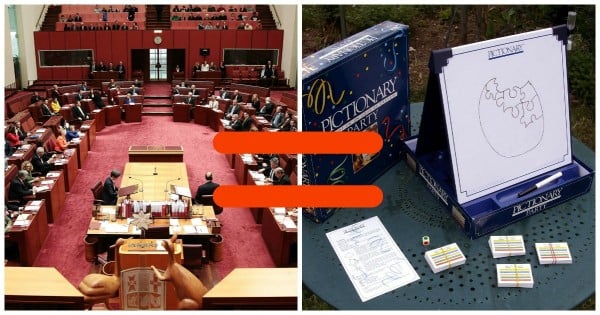 But yesterday, Prime Minister Malcolm Turnbull surprised everyone by saying "Nope, this round isn't done yet. Parliament Pictionary is BACK ON and this time it's an ALL PLAY". He told the Governor General to bring the politicians back to Canberra in April, specifically to debate a bill that would restore the Australian Building and Construction Commission. Turnbull says that if the doesn't Senate pass the bill, he'll call an early election (called a 'Double Dissolution') and Australia will go to the polls on 2 July 2016. He's also brought the budget forward by a week in order to make this all possible.