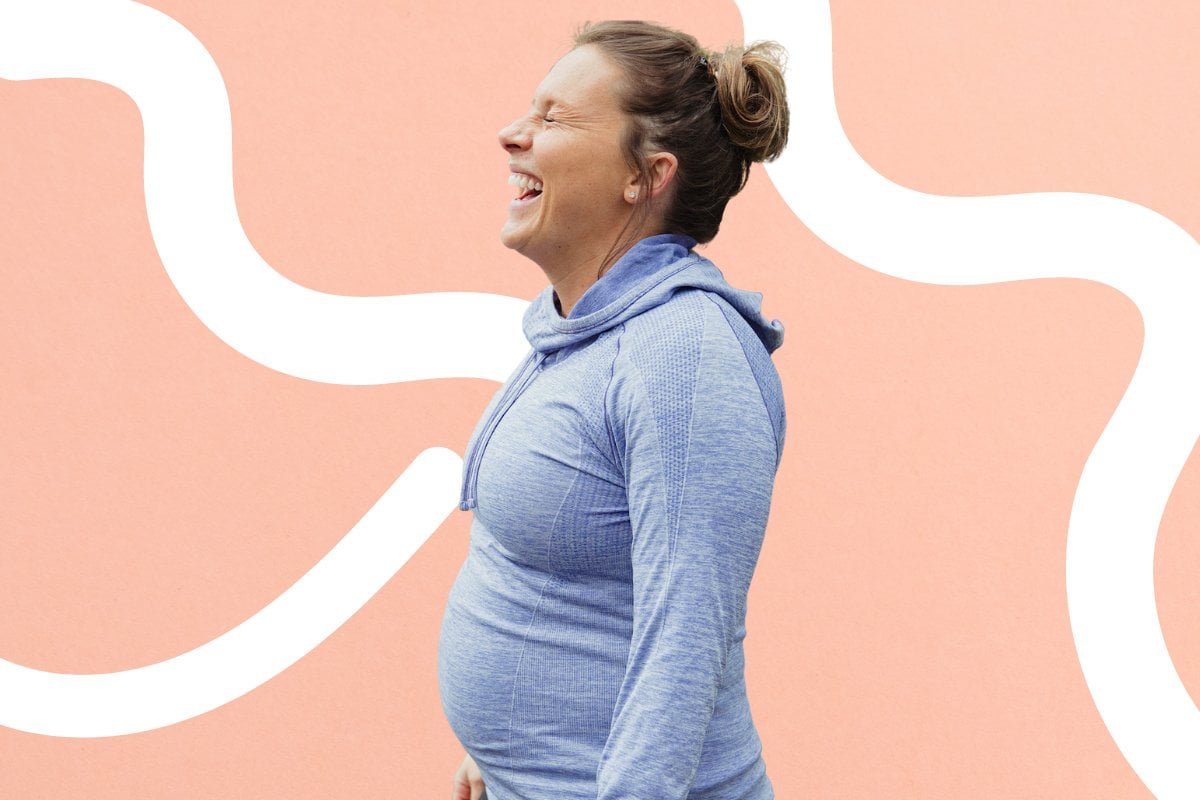 There are two types of pregnant people: those who follow *All The Rules* and those who... well, "don't". And never the two shall meet.            
Well not quite, but it's probably best to avoid brunching together. If you can get past the menu minefields of mimosas (nope!), smoked salmon (ooh, soon) and poached eggs (see you next year), you're sure to trip when the conversation turns to, "So, are you sleeping on your front or back?"
When it comes to pregnancy, everyone has an opinion on what a pregnant person should and shouldn't be doing. 
Of course, there's medically recognised advice for what to do during pregnancy but many of The Rules we hear are actually rooted in superstition or myth.
Full disclosure: I'm a card-carrying rule follower. So when I finally got pregnant after years of trying having dropped my hard-earned savings on IVF, I wasn't taking any chances. 
But that presented a problem when it came to exercise. 
According to Exercise & Sports Science Australia (ESSA), the organisation behind Exercise Right, exercise is, of course, important for everyone; regular physical exercise can provide many social, mental, health and fitness benefits. 
Exercise has been shown to reduce stress, anxiety and depression as well as make people happier in general. This is all thanks to endorphins, the "happy hormones" associated with peace, calm and stress relief.
For all those reasons and more I've been working out regularly for most of my adult life.
Until I got pregnant and waded into the quagmire of pregnancy Facebook Groups. All of a sudden, I thought my options were limited to aqua-aerobics and pregnancy yoga (but not until after 12 weeks and something about keeping a "gentle uterus" ¯\_(ツ)_/¯). 
I found it hard to separate the fact from the fear-mongering.
So, I jumped at the chance to ask Esme Soan, an Accredited Exercise Physiologist, the recommended dos and don'ts on exercise during pregnancy.
If "Accredited Exercise Physiologists" sounds like a big deal, it is. They are university-qualified allied health professionals. They specialise in designing and delivering safe and effective exercise interventions. Services are also usually claimable under compensable schemes such as Medicare and covered by most private health insurers. So yeah, Esme knows her stuff.
Let's get this straight: can I actually exercise while I'm pregnant? 
YES! We know exercising during pregnancy is safe and supported by the research – and that exercise is medicine. Even, previously inactive people are encouraged to start new activity once they are pregnant; just start slowly and gradually progress until you are doing 150 to 300 minutes of moderate intensity physical activity or 75 to 150 minutes of vigorous physical activity each week.