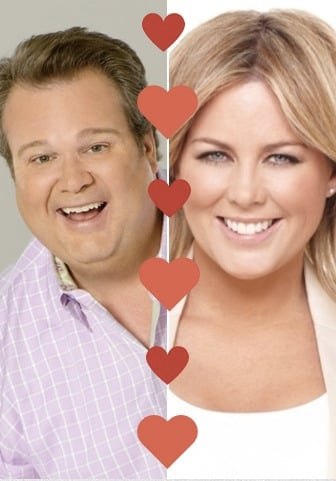 UPDATE: Sunrise host Sam Armytage has responded to rumours that she is dating Modern Family star Eric Stonestreet on her show this morning.
She was quizzed by her own on-air buddies, David Koch and Natalie Barr, about the possible love.
"Can I say publicly that Samantha has denied any allegations of a romance, it was just a five-hour lunch," co-host David Koch said. 
Armytage added: "Don't believe everything you read in the paper.
"There's nothing to talk about. There's nothing to say. It was a lovely lunch."
You look good together," said Natalie, cheekily.
Armytage replied, saying "he is a lovely man, very funny, very lovely. Very different".
"He's definitely not gay!"
Breakfast TV host Samantha Armytage has apparently struck up a sweet romance with Modern Family star Eric Stonestreet.
Eric, who plays Cam on the hit sitcom, was recently in Australia filming a special Bondi episode of Mod Fam. He extended his stay in Australia, sticking around longer than any of his co-stars… Could it be because he wanted more time to nuzzle up to Sam?
And before we go on, yes, Eric Stonestreet is straight. He makes an extremely convincing gay man in his breakout role on Modern Family – because ACTING.
Let's go back to the beginning of this hot, possibly fictional romance.
Sammy A kicked off the flirt-fest with this tweet when the Modern Family cast touched down in Australia: