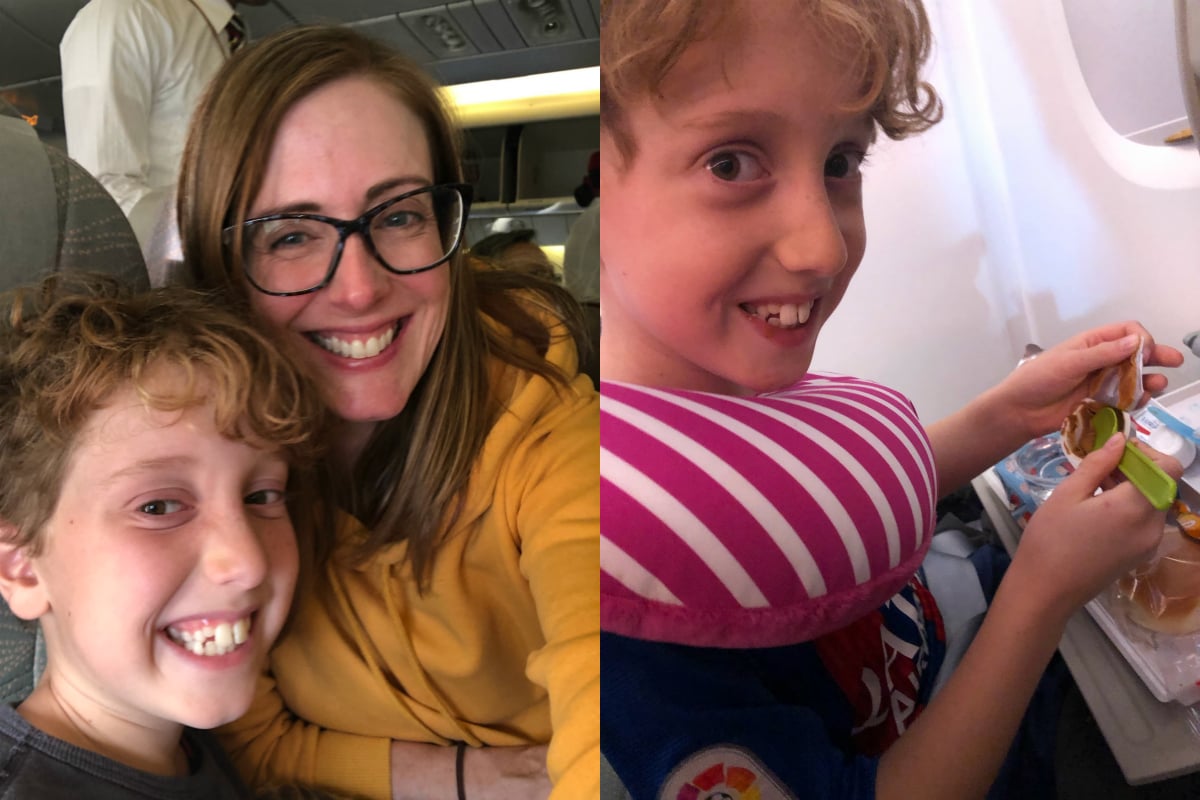 I've been flying between the UK and Australia to visit family for 16 years, nine of those years with my kids in tow.
It can be a daunting process and as a family, we have had some good flights, and some not-so-good flights.
In my travels, I've learnt that there can never be too much planning when it comes to flying with kids.
So, I've compiled my list of tips for your next big long-haul adventure, with a few insider hacks from Emirates' Department of Family Travel too. I've mainly thought about what would be helpful for the first time doing it, but these ideas can be useful for any time travelling overseas with kids.
1. Think carefully about your seats.
If there are four or more of you in your family, don't 'wing it' with seating arrangements. Book in advance and aim to have access to an aisle seat for frequent bathroom visits or walks with toddlers.
If you have a baby under one-year-old and weighing less than 11kg, the Emirates bassinet is a lifesaver – just make sure to pre-book it. I have never been so grateful to place my sleeping baby Leo into his cosy little bed, then sit back and eat my dinner with both hands.
We have also had success booking separate seats so that one parent travels with the kids and the other sits far, far away. This means one of you is 100 per cent ON parenting and the other can relax and watch a film in peace. The further away from your family, the better.
2. Be strategic with the timing of your flight.
I have found departing Sydney (or your closest capital city) around 5pm works well. This means naps can happen in the car on the way to the airport so little kids are not overtired before take off.
Bedtime then coincides nicely after dinner is served and means they should fall asleep at a time not that different to if they were at home. Happy days!
3. Plan your checked luggage carefully.
Take advantage of Emirates' generous family baggage allowance and stow the pram, stroller, travel cot AND car seat.
You will be so grateful that you did when you reach the other side and see all of your familiar things rolling along the conveyor belt.
On the other hand, when I travel alone with my nine-year-old son Toby, I like to pack light, as it is much easier to lug two lightweight suitcases on and off the terminal trolleys and public transport without my husband's help.
4. Pack ALL the snacks.
BYO snacks! I find familiar snacks from home are useful, especially when the plane is taking off and the kitchen is closed. This is coincidentally always when mine decide they are hungry.
If your kids are a little older and able to suck on lollies – a couple of easy-to-reach lollipops is a useful way to combat ears popping on take-off.