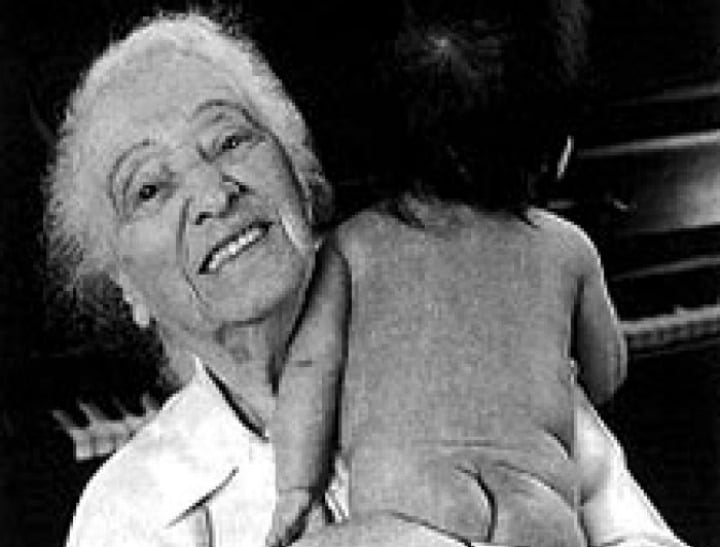 Elisabeth Bing, the natural childbirth pioneer who popularised the Lamaze method in the United States, has died at age 100.
Ms Bing, who was born in a Berlin suburb in 1914, died on Friday (local time) at her home in New York, her son Peter said on Sunday.
She fled Germany when she was 18, after Hitler took power, and moved to England where she became interested in obstetrics and natural childbirth while working in a hospital's maternity ward as a physical therapist.
She helped postpartum women regain their strength after they were heavily medicated during childbirth and ordered to remain in their beds for 10 days, she told The Journal of Perinatal Education in 2000.
"What I saw I disliked intensely and I thought there must be better ways. It was very frightening and upsetting to me. The women either had very heavy anaesthesia or nothing at all," she said during the interview.
In 1949, Ms Bing moved to the United States, eventually settling down in New York, where she took a job teaching childbirth classes to expectant mothers at Mt Sinai Hospital.
There she began teaching classes based on the work of French obstetrician Dr Fernand Lamaze, who emphasised relaxation, breathing techniques and emotional support from the father during childbirth.
"She was a charming, delightful and strong individual, who had to sometimes take on a medical establishment that was not comfortable with the things she was pushing," her son said.
In 1960, Ms Bing help found the American Society for Psychoprophylaxis in Obstetrics, now known as Lamaze International.
During the next two decades, Bing introduced the Lamaze method to the US, giving interviews on television and radio talk shows and speeches about the benefits of natural childbirth and the important role expecting parents play in childbirth.
"Prepared childbirth was easy to introduce in a way because the atmosphere was right," she said during the interview, attributing the growing popularity of the natural childbirth to Women's Lib and other social and political movements of the time.
Peter Bing said women would regularly stop Ms Bing, known as the "Mother of Lamaze", on the streets of New York to thank her.
"It was clear that she had a lasting impression, a human impression as a teacher," he said.
Lamaze healthy birth practices

1. Let labour begin on its own
2. Walk, move around and change positions throughout labour
3. Bring a loved one, friend or doula for continuous support
4. Avoid interventions that are net medically necessary
5. Avoid giving birth on your back and follow your bodies urges to push
6. Keep mother and baby together
This post originally appeared on the ABC and was republished here with full permission.